Last Updated on August 31, 2021
Everyone enjoys fried and delectable dishes such as french fries, fried chicken wings, and a variety of other tasty and mouthwatering delicacies, but your health is the only thing holding you back. Everyone is concerned about their health and does not want to be sick.
Do you eat a lot of fried food? Are you also concerned about the health implications? If you answered yes, you've come to the right spot because I'm about to make you happy by informing you about a miraculous and extremely useful gadget that will completely transform your eating habits. One of the most challenging aspects of maintaining a healthy diet is the food and the flavor of the healthy meals.
However, you no longer need to be concerned about this issue since we have a solution. An air fryer is a device that allows you to enjoy your favorite crispy fried foods without having to dip them in oils or fats.
Your air fryer may alternatively be thought of as a smaller version of an old convection oven. An air fryer cooks food without using much oil, instead of relying on hot air to make it crispier and more flavorful. Air fryers not only help to cook your food, but they also cook it 25% faster than a conventional oven so the cooking time is less Instead of deep boiling your food, you simply spray or add a little oil to it, ensuring that your health is not jeopardized.
Today, we'll have a look at the Yedi Air Fryer, which is a highly handy and popular air fryer on the market. This is without a doubt one of the greatest air fryers on the market, and it also has the seal of approval. Nothing compares to this, especially at this pricing. This is an excellent deal for the money you'll pay, and you'll get a lot of bang for your buck. I'll offer you an honest and unbiased assessment of this product and what it can accomplish for us.
Yedi Air Fryer
The air fryer has provided us with several advantages, the most significant of which is that we may enjoy our favorite dishes without having to worry about our health.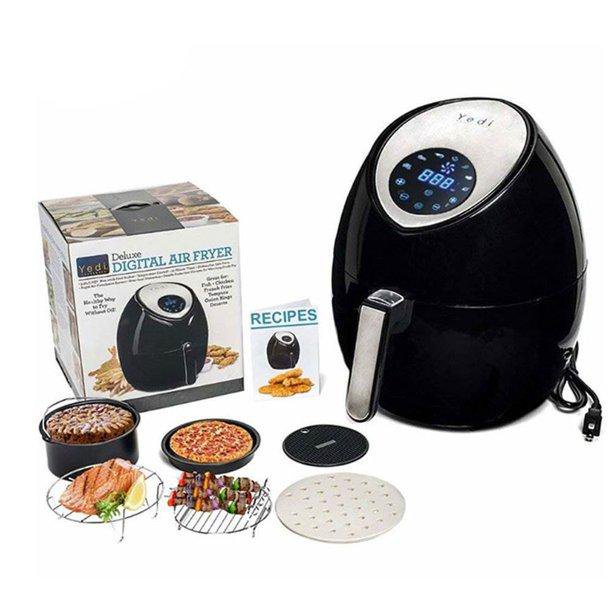 Most air fryers on the market require constant monitoring while in use, and you must stand next to it as it cooks food for you during the whole cooking process. Air fryers are comparable to regular ovens in that they function in a similar manner without the need for any automation.
The Yedi Houseware Deluxe Digital Air Fryer, on the other hand, comes with a variety of functions and pre-set programs, allowing you to take advantage of most of its capabilities. You don't have to keep an eye on the clock while it's operating, thus guessing and clockwatching are no longer necessary. This device is not only good for air frying but it can also be used for baking and roasting. It also has a digital touch screen.
The Yedi air fryer has a big capacity frying plate that can comfortably accommodate large meals. You can cook for your entire family in one sitting, and it will do it with ease. This is the most desired and desired characteristic that everyone looks for in an air fryer, and the Yedi air fryer delivers. This lovely air fryer features an exquisite design and a seductive appearance. As a result, you get everything you desire while also having a lovely addition to your kitchen.
If you're wondering what the Yedi air fryer has to offer, the answer is plenty.
Here are some of the highlights and characteristics.
Includes recipe book with 100 recipes for air fryers.
The cooking basket has a partition so you can simply prepare two separate meals at the same time.
a pizza pan with an 8-inch diameter
50 sheets of perforated parchment paper
Carrel for one cake
There is one rubber mat.
It includes some excellent programs that make cooking your dinner a breeze. The digital display makes it simple to control the priest programs while also providing information such as the current time and temperature.
It features a 5.8-quart capacity, allowing you to prepare large meals for large families.
Variations in Yedi Air Fryer
The Yedi air fryer comes in two distinct flavors. One is the conventional variant, which is somewhat more expensive in ceramic than the other.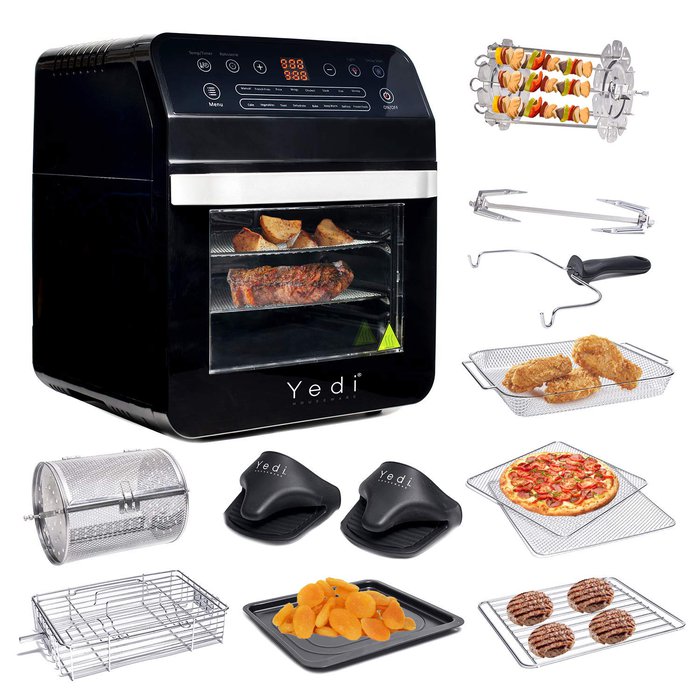 They both have the same machine that can perform the same tasks. The ceramic-coated components are the most noticeable differences in the more expensive variant. Metal and non-stick cookware contain potentially dangerous chemicals, but ceramic is a tried-and-true safe material.
Let's take a brief look at the product's advantages and disadvantages.
Pros
The Yedi air fryer comes with a slew of benefits and functions. It has a 5.8-quart air fryer capacity, allowing you to cook for large groups and allowing you to prepare more than simply chicken roasts and french fries.
It comes with an 8-inch pan tray that allows you to make 8-inch pizzas and desserts. The preset programs make cooking easier for you, and you won't have to constantly check on it while it's cooking. All you have to do is pack your food inside and click the priest button, and it will start cooking and automatically turn off when the cooking time is up. So there's no need to constantly monitoring it.
It features a built-in safety mechanism that prevents the drawer from being accidentally opened. This is prevented by the presence of a single safety button. You can still take the basket out and put it back in whenever you want. You may check on the progress of the cooking by removing and replacing the basket. The timer will automatically stop while you're doing this and resume when you put it back in. It is covered by a two-year warranty. Every Monday, five new recipes are introduced to the Yedi houseware app for Android and iOS.
Cons
The user interface is not particularly intuitive, and you will need to spend a significant amount of time reading the instructions.
The previously stated safety button function has been known to cause issues for certain users. It appears to open itself while jogging, according to them. If something like this happens to you, you may promptly contact them for a replacement or refund.
Conclusion
Air fryers and their benefits are a never-ending topic of conversation, and you will fall in love with them because of their features and applications.
If you're searching for high-quality items from a renowned manufacturer, the Yedi air fryer is the finest option. You may trust this product and buy it if it meets your demands since it will not let you down.