Last Updated on August 30, 2021
Calphalon is unquestionably one of the most well-known and dependable brands in the cookware industry, with many product lines. New precision Calphalon, Simply Calphalon, classic Calphalon, signature Calphalon, and many other cookware brands are available.
If you're thinking about purchasing a Calphalon cookware set, you're probably on the correct track. Due to the huge number of product lines offered, there may be some misunderstanding. Today, I'm going to discuss two cookware product lines: Calphalon and Calphalon Classic. These are arguably the best cookware product lines, and most individuals considering purchasing will likely start with these two sets. As a result, it's critical to compare these two cookware sets and explain why one is superior to the other.
Review of Simply calphalon
Simply Calphalon's stunning design may make you fall in love with it if you wish to make a lovely addition to your kitchen. A ten-piece collection of fry pans, saucepans, and saute pans is included.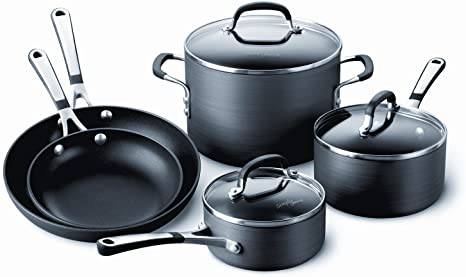 This cookware is constructed of hard-anodized aluminum and is completely nonstick. Because of the high grade of aluminium, the cookware is highly durable and helps to improve the performance of the cookware set.
Let's take a brief look at the set's characteristics and qualities. Calphalon never disappoints us when it comes to cookware since the quality and performance are always satisfactory, which is why this set stands out from the crowd. As we saw before, the set is made of hard-anodized aluminum, which basically means that it will last you for years and years without needing to be replaced. Along with its amazing durability, it also guarantees that heat is uniformly spread across the surface of the pan during cooking, preventing food from being overcooked or undercooked.
Another characteristic is that it has good-grip handles constructed of high-quality stainless steel that are also wrapped in silicon rubbers to prevent any type of scorching or damage. The stainless steels give it a contemporary appearance.
Pros
The nonstick coating on the Simply Calphalon cookware set is PFOA-free.
It is reasonably priced.
It also features tempered glass lids of excellent quality.
They are incredibly easy to clean and provide excellent cooking results.
Extremely long lasting
Cons
Should not be cleaned vigorously or with an abrasive sponge since the non-stick coating may be damaged.
It can resist temperatures as high as 400 degrees Fahrenheit in the oven.
It cannot be washed in a dishwasher.
Click on the link to buy the Simply Calphalon cookware set
https://www.amazon.com/Simply-Calphalon-1757697-Stainless-Cookware/dp/B002CZQGV8/
Review of Calphalon Classic
This is another Calphalon cookware product series with outstanding characteristics. There are three different variants of this product line: nonstick surface, stainless steel cookware, and ceramic.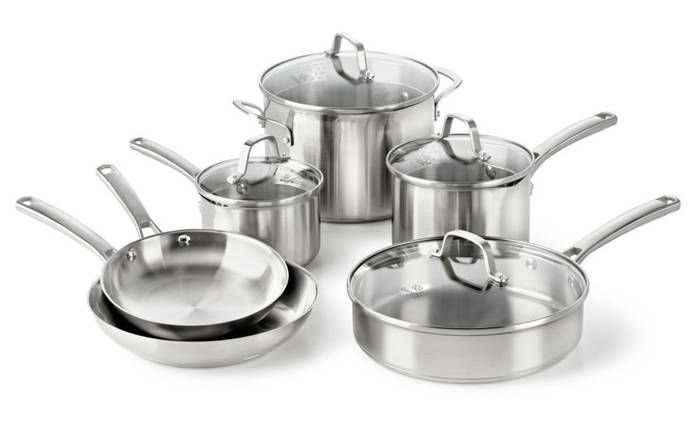 This allows you to pick from the three versions that best meet your requirements. Let's take a brief look at the Calphalon Classic's distinctive characteristics; we'll focus on the non-stick version because it is superior than the Simply Calphalon.
This cookware set can endure the rigours of daily usage, and unlike the Simply Calphalon, it features a dual-layer non-stick coating that aids in food release.
Silicon rubber is used to insulate the handles, which are constructed of cast stainless steel.
The Calphalon Classic can endure temperatures of up to 450 degrees Fahrenheit in the oven. The lids are made of tempered glass.
Pros
It is free of PFOA and comes with a lifetime guarantee.
It has a two-layer nonstick coating.
The lids are made of transparent glass.
Cons
It isn't suitable for induction.
Metal utensils are not allowed to be used.
Click here to buy the Calphalon classic cookware set
https://www.amazon.com/Calphalon-Classic-Nonstick-Cookware-Boil-Over/dp/B07VHSGHYG/
Simply Calphalon Vs Calphalon classic
The first thing that comes into mind when someone hears "calphalon" or "classic calphalon" is quality. Both products have been around for decades, so they must be good right? Well, not necessarily. There are several differences between the two product lines. Let me go over them below.

Design and Construction
Both sets come in similar designs but there are some key differences. For example, the Simply Calphalon has silicone rubber grips while the Calphalon Classic uses metal ones. Another difference is that the Calphalon Classic does not feature a lid lifter. It only has one handle instead of two.
Calphalon Classic and Simply Calphalon are two lines of cookware that include saucepans, sauté pans and stockpots. Although these items are only available in one hue, it's difficult to find fault with them. The pots and pans in both sets have a strong industrial sense thanks to their black exteriors. They have a high-end appearance and feel. The Classic does have a little advantage over the Simply in terms of stainless steel options.
Another thing that the various sets have in common is their creation method. Calphalon Classic and Simply Calphalon cookware are constructed of hard-anodized aluminum. This substance is created by a lengthy procedure. Anodized aluminum, on the other hand, is merely metal that has been purified by electrolysis. This is why these Calphalon pots and pans are so long-lasting and corrosion-resistant.
Cookware Set
Even if the Simply Calphalon and Classic Calphalon may be bought individually, they are better purchased in a set. The Simply Calphalon may be obtained in 8 packs and in 10 packs. However, the latter is the best-selling choice.
In the meantime, only a 10-piece set is offered in the classic calphalon. However, you may choose packages with bakery, utensils, or even an extra pot. Like the Calphalon's 10-piece Classic series, its best rating is.
The 10-piece Simply Calphalon set contains an 8-inch and 10-inch frying pot, a one quarter covered casserole and a two-quarter covered casserole. There is also a three-quarter breadcrumb with a deck, and a six-fourth stock with a deck. The regular 8-inch and 10-inch fry pan is included in Calphalon's classical ten-piece set. The package also includes a 2.5 quarter cupboard with a lid and an insert without boil-over. Finally, the customers will also get a 3-quarter sauté cover and a 6-quarter covering stock and insert No-Boil-Over.
Performance
When we talk about performance, we mean how well each piece performs during cooking tasks. We'll start off with the most important part – heat retention.
As mentioned earlier, the Calphalon Classic and simply calphalon use aluminum as the material used to make their pots and pans. Aluminum conducts heat very efficiently. In fact, this type of cookware can retain up to 90% of the heat generated from food.
You probably will appreciate the classic selection better if you want to make rice, soups and pasta. The tried-and-tested assortment of Calphalon features no-boil-over inserts that help avoid dirty pots. There is a central aperture for further stirring in the inserts. However, with the help of the two sizes of cups, Simply provides another choice for sauces. The cookware below the line-up Simply is also lighter and easier to handle, yet it is full of ingredients.
The Simply Calphalon set's silicon stay-cool handles are another plus. These handles stay cool for a long time, allowing you to grasp your pans with ease. The stainless steel handles on the Classic cookware set, on the other hand, get heated quickly and take a long time to cool down. Of course, this benefits the Classic lineup as well. The Classic cookware set, unlike the Simply Calphalon, is heat resistant up to 450 degrees Fahrenheit.
Conclusion
If you're looking for high-quality cookware at affordable prices, then look no more than the Calphalon brand. It offers great value for money and comes with many useful accessories. If you have any questions regarding our review, feel free to contact us through our website. You can find out more information there.