Last Updated on July 18, 2021
Introduction
In this day and age, ovens have come to become among the most effective and preferred kitchen appliances. A variety of ovens from a wide range of brands are available today. However, it is essential that you select a model that incorporates all your required specifications such as the size or the cost. Hence, when someone has a small kitchen or limited cooking needs or skills, mini ovens become a must-have appliance. They are lightweight and compact and are typically designed for tabletops. And they sit in a corner without taking up a lot of space while offering absolute versatility. That is why we have outlined some of the best mini ovens just for you!
1. Sage Smart Mini Oven Pro
View on Amazon: https://www.amazon.co.uk/Sage-BOV820BSS-Smart-Oven-Element/dp/B01LYYFBAG/ Thanks to the 10 pre-set cooking programmes and intelligent 'Element IQ' technology, this elegant brushed stainless steel tabletop oven by Sage is incredibly flexible, which adapts the heating levels for smart heat distribution. It has a 21-litre capacity which is very reasonable. However, there is just one shelf that is included but depending on what you cook, it could easily be lifted or lowered conveniently. Likewise, the internal light permits users to monitor the cooking process without opening the door and losing warmth. The oven has an LCD monitor that helps you to clearly view the settings that makes everything look simple and intuitive. Although the fan can be quite noisy it delivers quick and even heating in the oven, with little effort to achieve exceptional cooking results. In terms of what it can fulfil, its 2400 watt power and heating technology guarantee that you will not encounter any hindrances. Moreover, the convenient automatic warming feature assures that your food does not get cold if you get occupied with your phone or you are organising other meal ingredients. This model also has an excellent rating of 4.7 out of 5 stars on Amazon which is certainly outstanding.
2. Russell Hobbs Mini Kitchen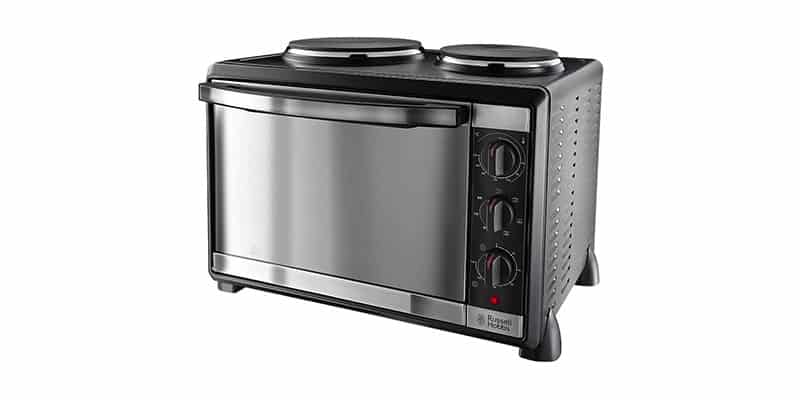 View on Amazon: https://www.amazon.co.uk/Russell-Hobbs-22780-Multi-Cooker-Hotplates/dp/B00VROB6KQ? This Russell Hobbs multi-cooker and mini oven offer you way more than just a tabletop oven. The fan-supported Russell Hobbs Mini-Oven is the finest option for both conditions if you are either on the hunt for a temporary oven or perhaps a portable tabletop. This oven is desirable as it offers to defrost, baking, boiling, grilling and roasting. There is also a function for toasting, which eliminates the necessity for a separate appliance and is amazing when you have limited space.
It has the capacity of 30 litres which indicates that you can cook slightly bigger quantities than a regular mini oven. Now, the existing temperature of this mini oven is between 60°C and 230°C which is more practical than the ovens that begin at just 100°C.
This oven is excellent for users who are really busy as they can always count on the 120-minute timer as well as an automatic shut-off. Further, it also includes a bell to assist you to get notified. This oven has two hot plates that users can operate separately or together to cook various dishes simultaneously. With the small one at 750W and with 1000W the large one, the top hot plates function independently. Sadly, you can not make use of the hotplate together with the oven, likewise, the heat of the hotplate also cannot be altered or changed. If we take a look at it's Amazon reviews, this model has a 4.4 out of 5 stars rating which is extremely impressive and it further has a guarantee of 2 years which can be extended to 3 years if you register online. Nevertheless, this mini oven model is a wonderful selection if you need fast and effective heating with a hot plate which is better qualified than the regular mini ovens.
3. Tefal Optimo Mini Oven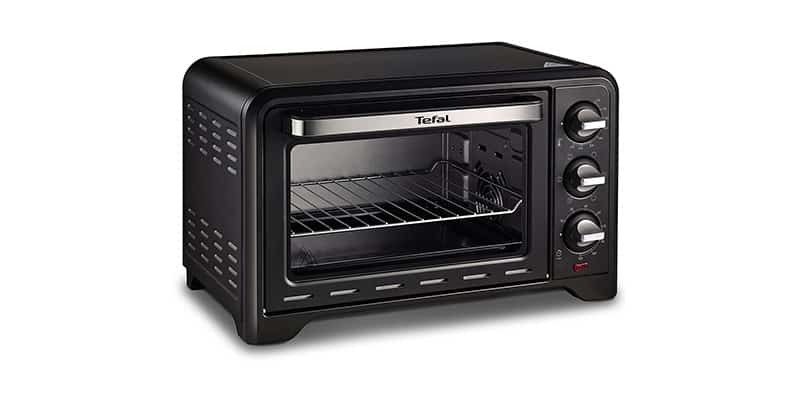 View on Amazon: https://www.amazon.co.uk/Tefal-OF445840-Capacity-Rotisserie-Stainless/dp/B077PSKF8F/ The brand Tefal is renowned when it comes to the realm of cooking, certainly, this mini-oven complements Tefal's range very well. For those in small spaces, this mini oven is a marvellous choice. It may also be effective to those with difficulty bending in a conventional low oven thanks to its countertop functionality. In terms of the sizes, there is a large range of options to choose from. It is incredibly versatile and provides a wide variety of useful features. Additionally, the temperature ranges between 100°C and 240°C and the heat setting can then be selected based on what you want to cook. Thanks to the control dial and precise characteristics, selecting each setting is very simple, which is something that other models sometimes fail to demonstrate. The model further has a wonderful Amazon rating of 4.4 out of 5 stars. In addition, if you need to carry your mini oven to someplace else, then this model is pretty lightweight and compact.
4. Dualit Mini Oven
  View on Amazon: https://www.amazon.co.uk/Dualit-89200-Mini-Oven-1300/dp/B005VBDZ8C/ Dualit went beyond expectations with this model. There is a curved back to adjust round dishes and trays and also has a non-stick interior. Moreover, the capacity of the mini oven has now been expanded to 18 Litres. On top of that, this mini-oven is ideal for all the impatient users, as it heats from 0° C to 180°C in just three minutes and can heat up to 230°C in only five minutes. However, no internal light is present and the exterior gets very heated. Furthermore, it features a grilling and a pizza pan of 9 inches which allows you to cook two batches simultaneously. However, the real attraction is the non-stick interior combined along with a full-width tray, which can be instantly removed. With an Amazon rating of 4.2 out of 5 stars, this portable mini oven must certainly be in your kitchen!
Conclusion
In spite of the many choices available on the market, it is certainly not easy to select a mini oven. The most significant things that you should take into consideration have been illustrated in this mini oven purchasing manual. You have also discovered some of the finest options from famous and less recognized brands. No matter what you do, make sure that you take time to evaluate all details on your selected product carefully. References: