Imagine having a hectic day at office or returning to your home from an exhausting outing, What will you want most at that time? Delicious food and a sound sleep, Right? And the last thing we all want to deal with, at that moment, would be a pile of dirty dishes waiting for us in our kitchen. Nightmare! Isn't it? A Dishwasher can be our absolute savior in times like these. But, Wait! Is your Kitchen space or your travelling habits prohibiting you from having this convenience? Don't let it. You can have any size of Kitchen or travel as much as you want and still have a Dishwasher to suit your needs. There are plenty of Dishwashers (portable or not) available out there for every size of kitchen.
What are the Various Sizes and Types of Dishwashers?
Most Dishwashers come in one of three basic sizes: Standard, Compact or Custom.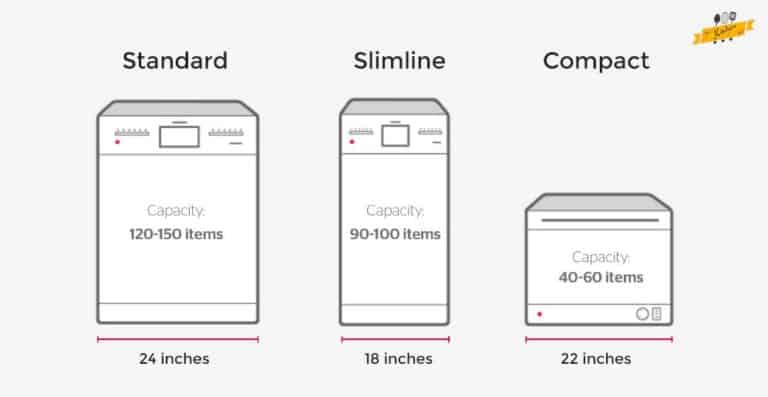 Standard Standard size is generally listed as 24 inches wide, 24 inches deep and 35 inches high, with levelling feet that let you adjust the height to fit neatly under the counter. Compact Compact or space saving dishwashers are 24 inches deep by 35 inches high, but only 18 inches wide. Custom Custom also called Oversized models are wider or taller than the Standard Dishwashers. They are less common in both markets and households. Some Popular Types of dishwashers are: Built-In, Portable, Countertop and Integrated Dishwashers. Built-In Dishwashers Built-In Dishwashers are the most popular and recognizable types of Dishwashers. A built in model has an independent and permanent connection to your plumbing, unlike some other dishwasher types that need to route water from your sink plumbing. This Dishwasher slides into place and is secured in a spot under your cabinets. It comes in the standard and the compact sizes.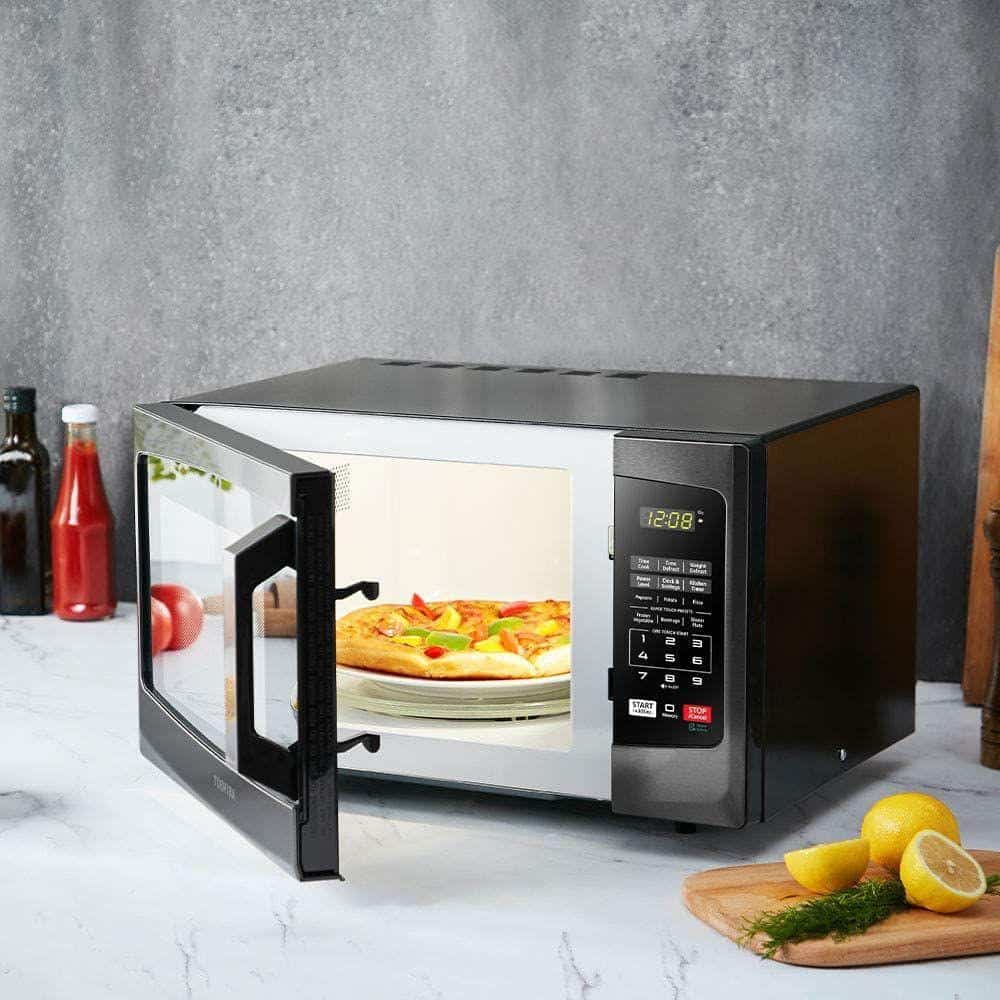 Portable Dishwashers Portable Dishwashers are Compact, freestanding units that connect to your sink instead of having its own plumbing. The top of these dishwashers is usually a countertop material, giving you extra working space if needed. Thus making it popular for small homes and apartments and for those who move frequently. Countertop Dishwashers When even Portable Dishwashers are too bulky or inconvenient for your space, you can go for a Countertop Dishwasher instead. Countertop Dishwashers are versatile, easy to use and small enough to sit on your counter. They can be easily connected to your sink using a quick connect adapter for your sink faucet. Although they have small capacity they have advantages of using less detergent and water. Dishwashers for Small Spaces We've already discussed the various sizes and types of Dishwashers available. So, keeping the small space and portability in mind, compact dishwashers like Countertop Dishwashers, Portable Dishwashers are preferable. We have already discussed what these both are. Now let's have a look at the Pros and Cons of Portable and Countertop Dishwashers. Pros
Can be used in any kitchen: Built-In or Integrated Dishwashers require separate plumbing connection or cabinetry modifications. So, they are definitely a hard choice for older kitchen models. Whereas, portable or countertop dishwashers can be easily connected to the already present sink in the kitchen.
More counter space: Adding a built-in to a small kitchen cuts into the already limited cabinet space. This is not the case with portable and countertop ones. They can be placed anywhere in the corner. Plus the top of the portable dishwashers can be used as an extra countertop space.
More efficient: Portable and Countertop Dishwashers use less water, less detergent and also less energy as opposed to their bigger counterparts. Thus, they significantly lower our utility bills.
Cons
Fewer models to choose from: Most portable or Countertop dishwashers are just the basic models without any premium features. So, there are less options to choose from.
Noise: Built-in Dishwashers have cabinets surrounding them thus reducing the noise. Since portables and countertop ones lack this noise insulation, the noise transfers into the room. Moreover, most of them have plastic tubs which are louder than steel tubs.
Durability: Portable or sometimes countertop Dishwashers move around a lot and need to be connected and disconnected with every use. So, they are more vulnerable.
Portable vs Countertop Although they both seem to be similar in having compactly sized, and being connected to the sink faucet, they aren't the same thing.
One sits on the countertop and the other is on wheels which can be rolled into a corner when not in use.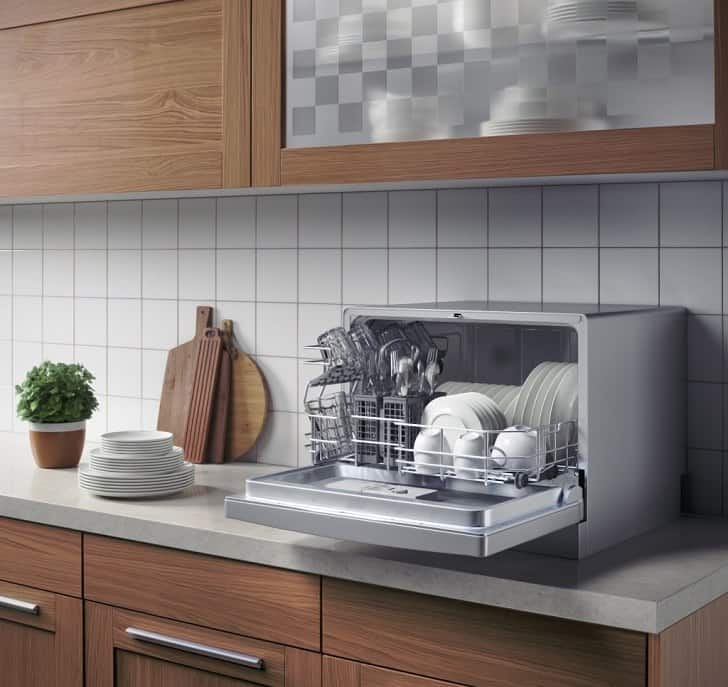 The biggest difference between a portable dishwasher and a countertop dishwasher is the number of dishes they can wash.
A countertop dishwasher can wash very few utensils at a time and with most of the models, larger items like pots and pans just won't fit.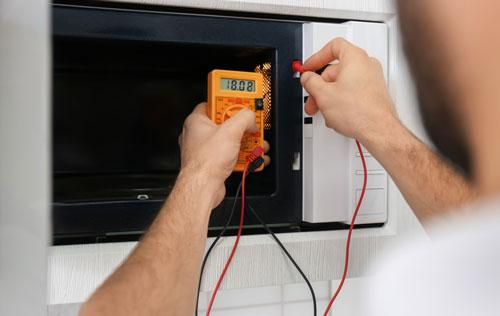 Portable Dishwashers, on the other hand, can wash just as much as a built-in model.
Another difference would be that a countertop dishwasher uses around 7 to 7.5 litres of water. Portable and Built-In models can use as much as 11 litres of water.
Portable dishwashers are the Dishwashers on Wheels.
And if you are planning to move countertop dishwashers, choose a light one.
A countertop dishwasher is usually the best choice for people who have no place to keep their portable dishwasher when it's not in use. But, a countertop dishwasher may not be the good choice for those having plenty of counter space but none near the sink as it requires the sink's plumbing connection.
So, after all this mind-boggling discussion, portable dishwashers are an obvious choice, if kitchen space is not an issue. Which features to look for while selecting suitable dishwashers? While your kitchen space and your lifestyle being the most important factor, The best Dishwasher for your lifestyle should definitely have the right combination of size, capacity, aesthetics and wash features. While selecting a Dishwasher, look for programmes, adjustable layouts, additional features like energy efficiency that will save your money, space, time and effort. Best Use of the Space
The smaller third rack sits above the others. While you can only fit small items in the third rack; putting all of the spoons, small utensils, and silverware in a separate place, enables you to have more room for the larger dishes on the bottom racks.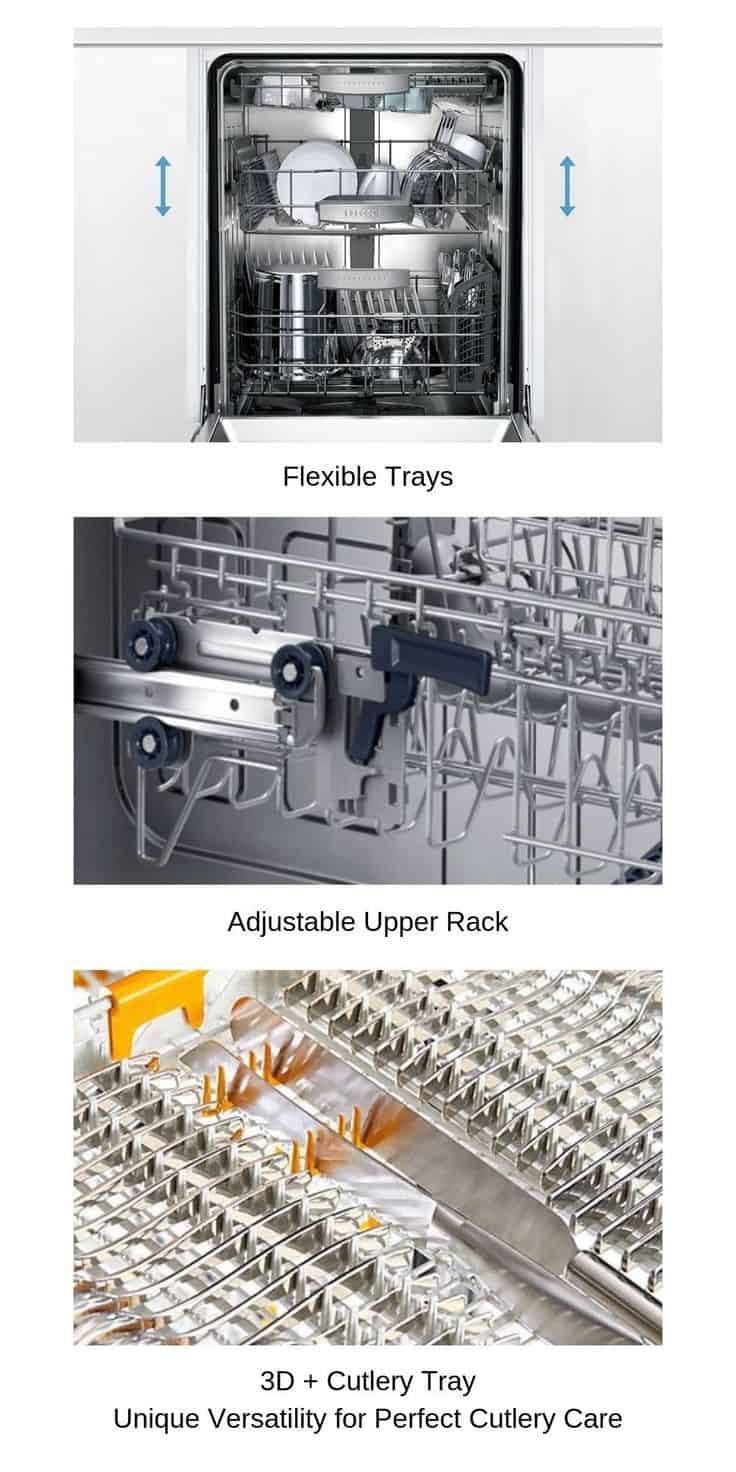 Adjustable and removable racks enable you to customize your dishwasher. Shifting the adjustable upper rack is particularly convenient if you need to fit tall wine glasses or pans in one load.
The delay start option will run the dishwasher at a later time or during off-peak hours. You can add items to the load anytime during the delay countdown. After adding items, firmly close the door until it latches. The delay countdown will not continue if the door is not latched. This feature can be highly useful in case: •you are having guests at your home. •you are watching TV along with your family and don't want the noise to disturb you. •when the water pressure is too low due to showering or any other reason. Most people use the delay start feature to wash the dishes after midnight while they are asleep.
Normally the dishwashers range from 63 to 66 decibels. On the surface, it may not sound enough but it can still interrupt a conversation. With the advancement in the technologies, dishwashers nowadays are having sound ratings as low as 38 decibels. Quiet performance is a priority for both the dishwasher manufactures as well as the consumers. There are a variety of noise reduction packages available that include quieter motors, soundproof tubs, and improved insulation that result in low decibel range. The main thing to look for is the dBA rating or decibel level. The lower the decibel, the quieter the dishwasher.
You can look for delicate wash cycles for china crockeries or other hand-wash items, tough scrubbing cycles for hard-to-clean pots and quick wash cycles to give you clean dishes faster.
Basic models use plastic tubs, while more upgraded versions have stainless steel interiors. While this has minimal effect on the dishwasher's cleaning power, stainless steel interiors last long, have durable performance and better sound dampening. Because of their metal interiors, they reflect heat for more energy-efficient drying.
Contemporary dishwashers use less energy and water than older models, lowering your utility bills and conserving energy. To select an energy efficient dishwasher, look for the Energy Star label. Dishwashers with a delay-start feature allow you to program your dishwasher to run during non-peak hours, therefore saving energy. Units with features like rapid wash cycles offer added efficiency. So, here are our top picks for you to choose. Believe us, when we say we have spent a considerable amount of time on researching these products to suit your lifestyle:
Farberware FDW05ASBWHA Complete Portable Countertop Dishwasher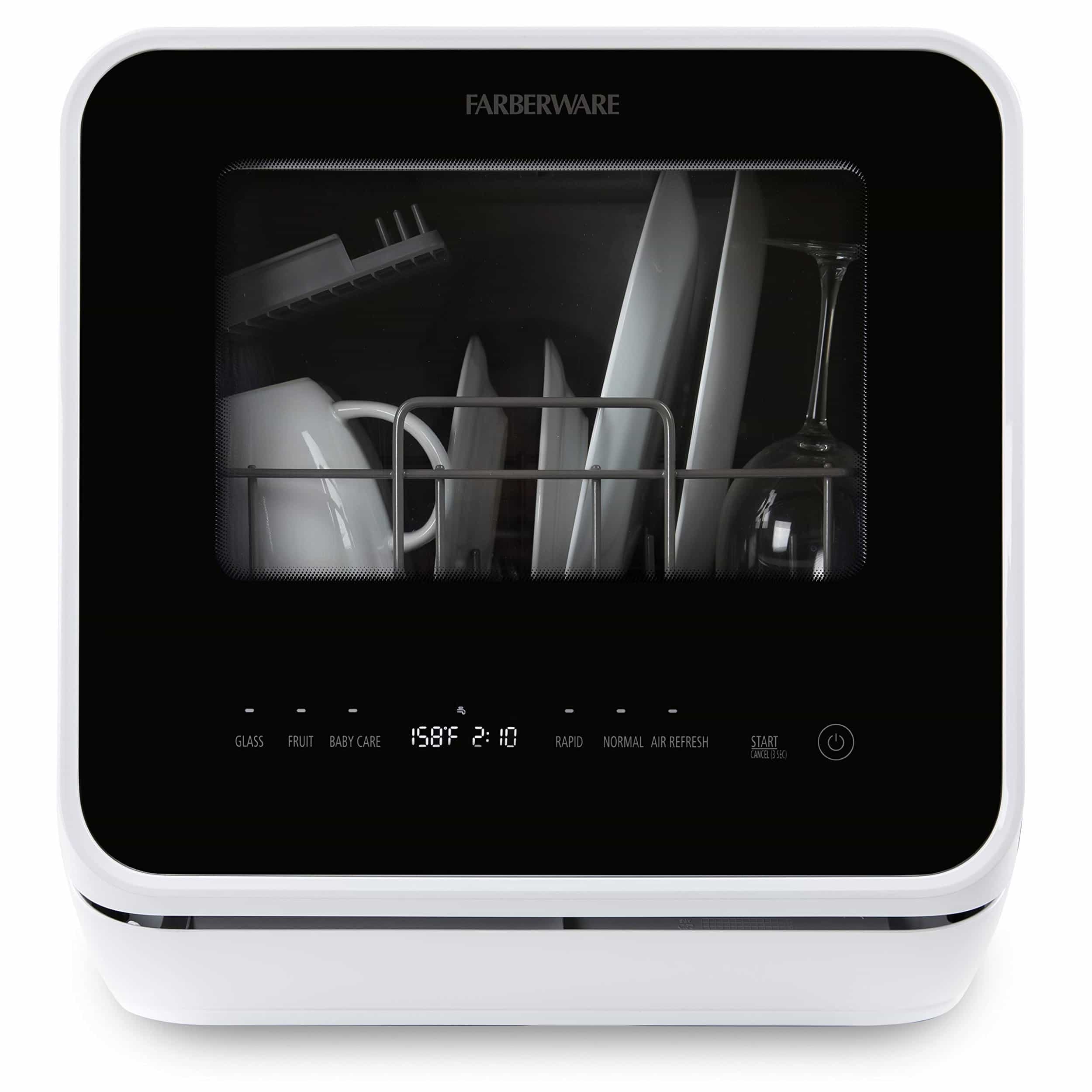 Description: If you have water, electricity and 29 minutes you can clean your dishes– anywhere and anytime! Whether it's in your kitchen, Camping, on your boat or RV, or at an event now dirty dishes are a thing of the past. The Farberware professional complete dishwasher can be placed on any countertop or sturdy table and gives you the choice of using its built-in water tank or a quick faucet hook-up. Dimensions: 17.3 x 16.5 x 17.3 inches. Weight: 37.8 Pounds Capacity: 5 Litres Features:
Five different way cycles: Normal, Rapid Wash, Fruits Wash, Glass.
Steam: Steam generated during the Baby Care cleaning cycle can be used to sanitize baby bottles and give glassware a sparkling clean finish.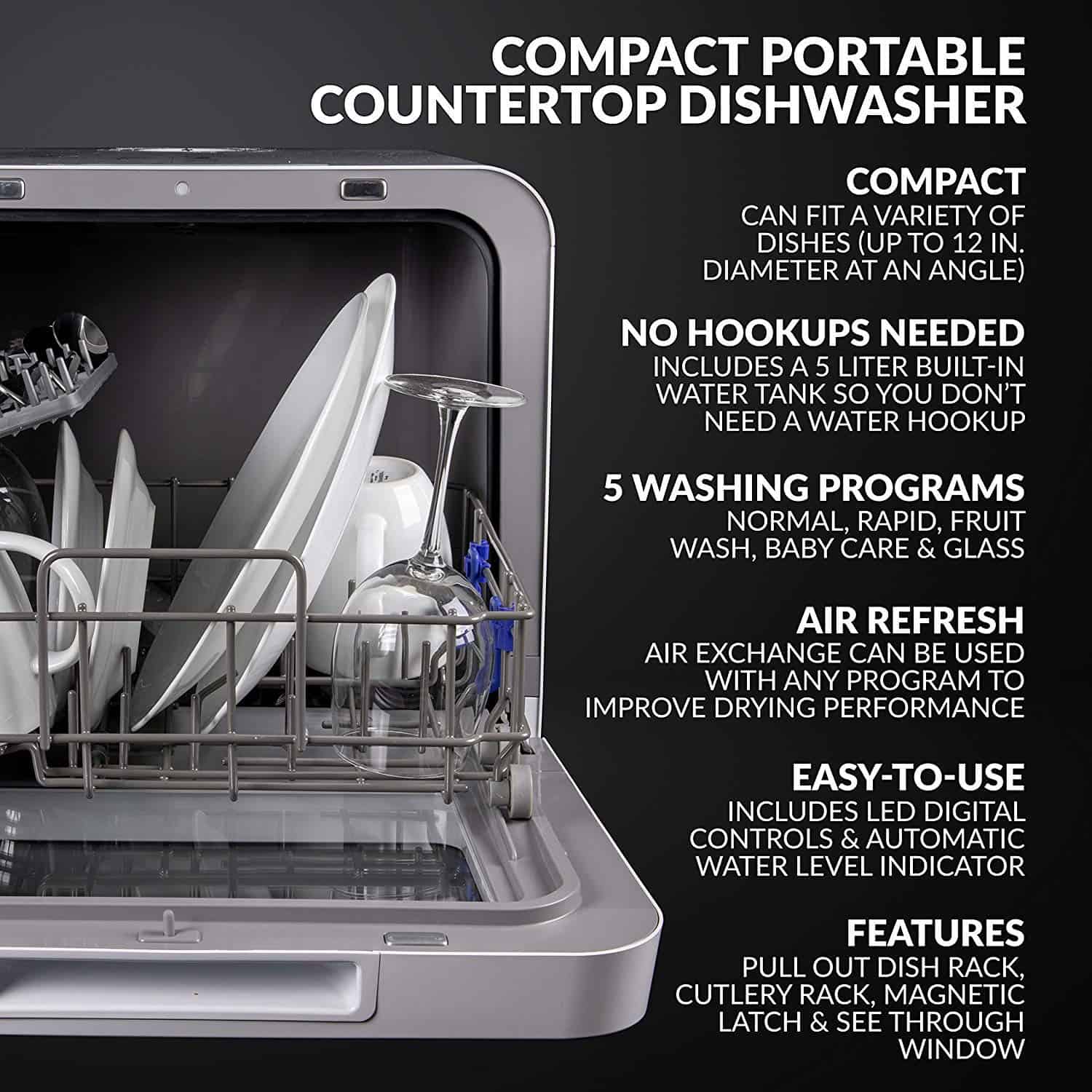 No hookups needed: It gives you the advantage of portability and storage. You can fill the built-in tank so you don't need a water hookup. Water hose is included for a direct water hookup to the kitchen faucet.
Easy to use LED digital controls.
Faucet adapter: Not included
Check it out: https://www.amazon.com/Farberware-FDW05ASBWHA-Countertop-Dishwasher-
SD-9263SS: 18″ Energy Star Portable Dishwasher
Description: This stylish and modern portable 18″ inch energy star dishwasher is the perfect addition to any kitchen! Beautiful exterior will make any kitchen feel upgraded along with powerful cleaning capabilities inside for the ultimate dish-washing appliance. It can connect to any kitchen faucet and eliminates the hassles for direct plumbing or permanent installation. Dimensions: 23.63 x 17.64 x 35.63 inches Weight: 118 pounds Capacity: 5 gallons Features:
Loads up to eight standard place settings.
6 Wash programs: Heavy, Normal, Eco, Glass, 90 Min, Rapid
Rinse Aid Warning Indicator: Refill reminder on rinse aid.
Time Delay Feature
Error Alarm: displays fault codes
Adjustable upper rack
Automatic detergent and rinse agent dispenser
Energy Star
Faucet adapter: included
Check it out: https://www.amazon.com/SD-9263SS-Energy-Portable-Dishwasher-Stainless
KAPAS Portable Countertop Dishwasher

Description: This Convenient Dishwasher is ideal for small-sized Houses, Apartments, Dorms, Boats and Campers. Newly launched, small in size but big in features. Dimensions: 16x16x17.5(H) inches Weight: 26.4 lb Features:
Six Wash Programs – Standard, Quick, Strong, ECO, Fruit and Dry
Fruit & Vegetable Cleaning with Basket
Built-in 3-Cups Water Tank
High Temperature wash
Air Drying
Faucet adapter: included
Check it out: https://www.amazon.com/Portable-Countertop-Dishwasher-Vegetable-Temperature
CalmDo Portable Countertop Dishwasher, Fully Automatic Washer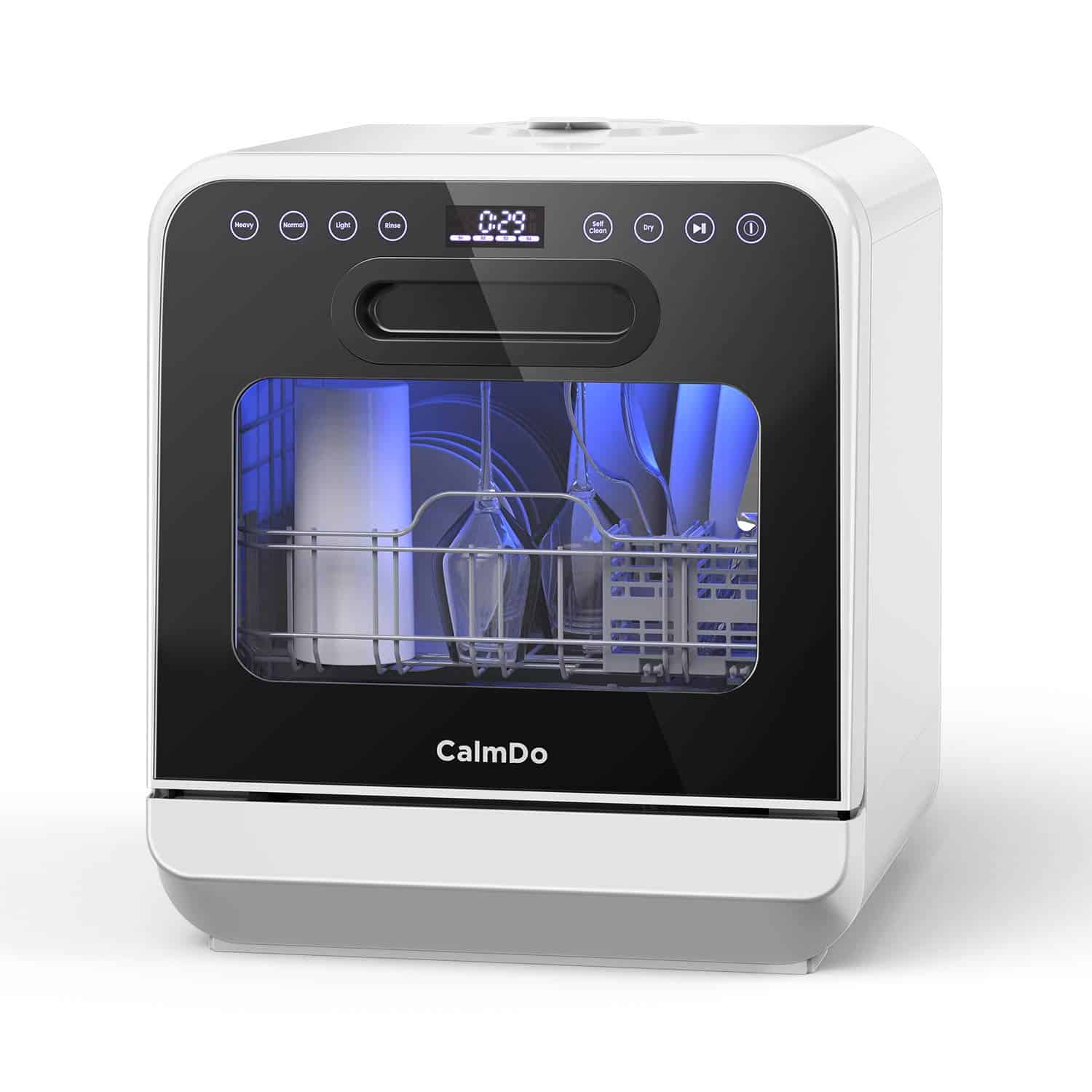 Description: CalmDo Compact Countertop Dishwasher is Space Saving, Time Saving, Money Saving and Energy Saving. Perfect for small sized households or individuals living in apartments, RV, or boat, etc. It offers a 3D strong cleaning effect with upper and lower double spraying arms and multiple high pressure nozzle holes, providing 360° wash. Dimensions: 17.44 x 15.98 x 18.3 inches Weight: 38 pounds Capacity: 3 place settings Features: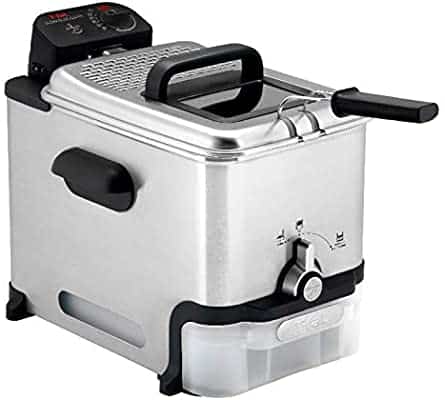 4 Washing cycles, Self Clean and a Dry mode
Detachable Filter: Don't worry about blocking the drain. There is a detachable filter to strain the food particles, you can take it out and rinse it with water after washing.
Faucet adapter: Not included.
Check it out: https://www.amazon.com/Portable-Countertop-Dishwasher-Automatic-Customized/ Conclusion Purchasing a dishwasher can be a bit expensive. But in the long run, You will actually find that you are saving money. Using a dishwasher is healthier, safer and it contributes to the environment in a way you might have never given a thought to. Hand-washing dishes can use up to 100-110 litres of water. Furthermore, standing near the sink to wash dishes puts tremendous strain on the back and neck leading to chronic pain. Hand-washing also tends to break a lot of delicate items. So, whatever the size of your kitchen is, do consider buying one.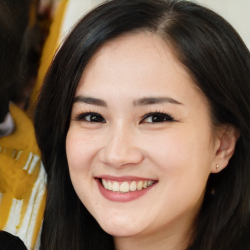 Latest posts by Daisy Kim
(see all)