Last Updated on July 19, 2021
Microwave is a household appliance which has surely revolutionized and modernized our home's kitchen. Instead of standing for hours in front of our normal stoves, paying attention to the dishes being cooked, You can just toss everything in the microwave, press a few buttons and have your meal ready in minutes. Basically, a microwave heats food by converting electricity into electromagnetic waves of microwaves range. They are quick, convenient, safe and also cause least harm to the nutritional value of the food. With their popularization, they have lifted household convenience to a next level. But, Surprisingly, NO Shockingly, microwaves are still viewed as some rocket science kind of technology in many circles.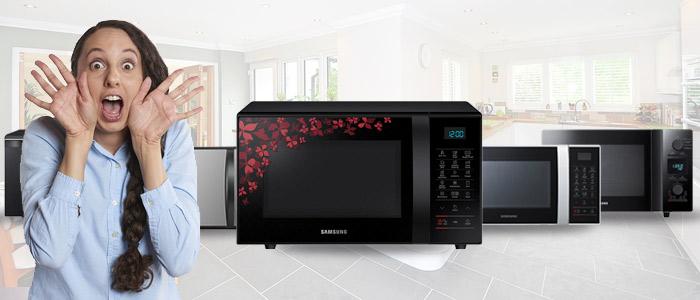 Given, unlike Fridge, Stove or Water purifier, it isn't an essential home appliance but it is definitely a must-have for convenience. Besides convenience, A microwave also adds to the aesthetics of your kitchen. Imagine a RED microwave, sitting on your countertop! It can be a sight to sore eyes.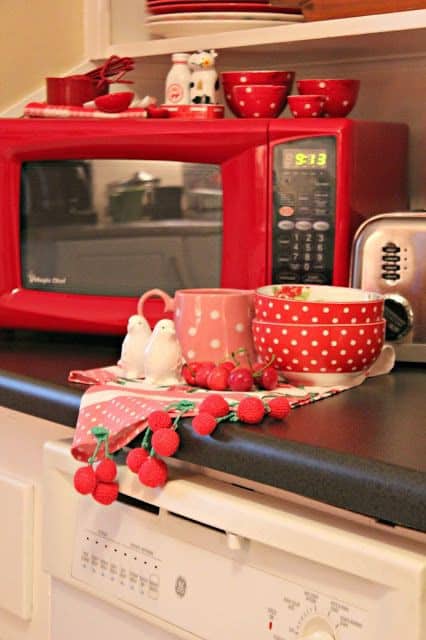 So, if you've finally decided to get a microwave (by being impressed from my influencing power *insert wink face*) We are here to make your decision process super easy. Read this detailed article and know all you need to. Pros and Cons of having a microwave First question which arises in our mind is that Why do we need a microwave when we have our normal stoves, working just fine, Here's what you are missing out.
Convenience: The first and the foremost reason why we need a microwave is because it adds to our convenience. It provides easier and faster cooking and you don't need to check on your food after every few minutes. You just have to keep the food inside the microwave; set the timer accordingly and let the microwave do the rest. Once the time is over, the microwave will automatically turn off and you can check on your food. There is no issue of burnt, or over or under cooked food, either.
Economical: Using a microwave consumes much less energy than conventional gas burners. Cooking time is lesser as compared to normal stovetops.

Healthier food: The healthiest method of cooking is the one which involves short cooking time and less amount of liquid involved. Some of the nutrients, like Vitamin C, break down when exposed to heat for a longer period of time. Cooking the vegetables in the water causes leaching of their nutrients into the cooking water.
Microwave cooking, being quick, retains more nutrients in your veggies.
Safe: While there are many studies proving microwaves to be dangerous for you in one way or the other, still it can be safer as compared to regular gas burners as there is less smoke and less heat. Some microwaves also have technologies like child lock systems.
They do have some of the drawbacks.
Using Microwave safe utensils: You have to be super conscious and cautious of what materials and utensils you place in your microwave. Not using a microwave safe dish can lead to reactions between food and the material causing melted utensil, uneatable food and also damages to your microwave.
Limits the variety: While you can cook countless starters and dishes using a microwave, There are some meals that just can't be replaced using a microwave. A microwave also doesn't let you deep fry. And we all know how sad that is.
Limited cooking capacity: Most of the microwaves have a capacity of 0.5 to 2.5 cubic feet. It can be a problem while you cook for a large number of people or for large families. If you look for a huge microwave with more capacity, it can be little out of budget.
Burnt Hands: This is a common problem most of the people face while using a microwave. Sometimes the pots or utensils are too hot to handle and it can lead to burn in your skin and hands.
Harmful for humans: There are many studies to show that microwaves are dangerous for humans. For instance, if they get damaged they can emit harmful radiations. Also the use of some plastic containers can cause the toxin to get into your food which are sometimes carcinogenic.
A lot of these disadvantages can be eliminated if you use the right methods or the right tools.
Precautions
Using microwave safe utensils: If you are using plastic dishes, you need to be extra cautious. Some plastics are not safe, they can melt, resulting in unwanted chemical reactions.
Always use microwave gloves while taking out the dishes from the microwave. They can be super hot and can lead to skin and hand burns.
First Undercook then cook for a few more minutes: Sometimes your food can be overcooked too. This can lead to dehydrated food, uneven texture or loss of nutrients, So, to prevent this first under cook your food and then cook for a few more minutes instead of cooking it in one go.
For most of the people, the pros of using a microwave outweigh the cons by far. What to look for in a Microwave? You don't buy a microwave every often so you need to research properly about all the features you need.
Fit your kitchen: There are various types of microwaves ranging from Countertop to Built-in microwaves. If you have sufficient counter space, you can go for a Countertop microwave. Whereas, if you lack space in your kitchen, a built-in or over the range microwave can be a better option for you.
A built-in microwave can also add to the aesthetics of your kitchen.
Size: No matter which microwave you have finally decided to go with; size is, hands down, one of the most important factors. You certainly don't want to face a situation of bringing a microwave only to realize that it won't physically fit in the allotted space.
Also consider what types of dishes you want to typically cook? Will the pans you use fit or not?
Wattage: Higher the wattage, lesser will be the cooking time and the contents inside will be heated evenly. Minimum suggested wattage is 1000 Watts. Lower wattage microwaves are also available that are cheaper but also slower and less reliable.
Preprogrammed Settings: You may find it really annoying to set the time manually, each time you use a microwave. You can look for a microwave with preset cooking options. Most microwaves come with the following settings:
•Popcorn setting allows you to cook according to the size of the bag.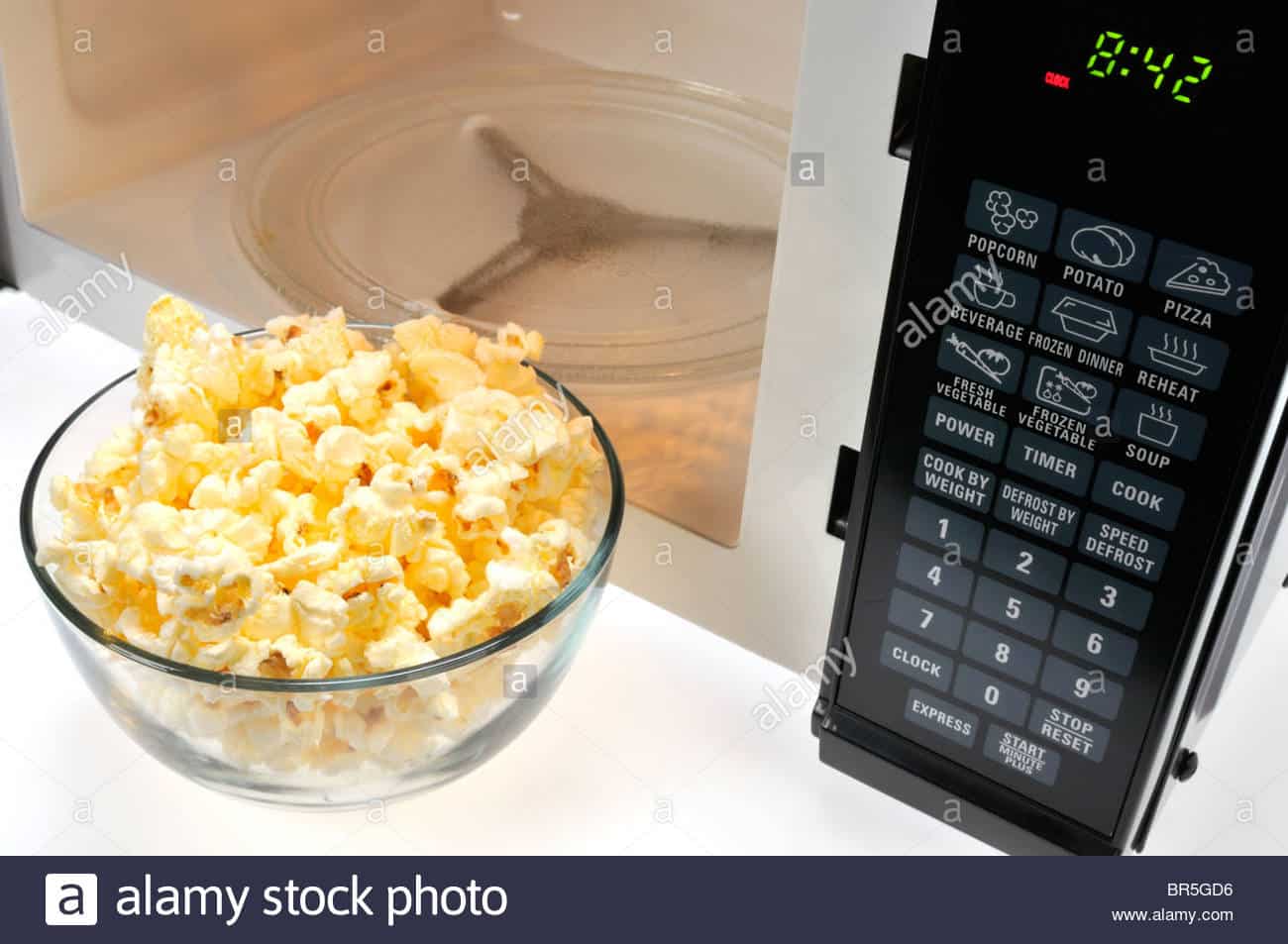 •Defrost is another popular setting which can come handy in thawing frozen food products. Thawing products like meat, chicken, egg products, fish should be done with extra care. It is preferable to heat them at a lower power level to avoid cooking food from outside while it remains frozen from inside.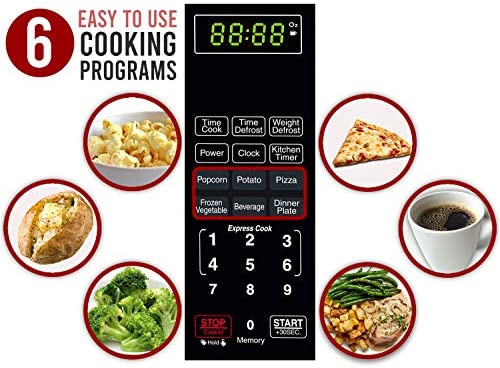 •Reheat: Reheat button is used to heat your leftovers perfectly, without setting up any additional power level. •Convection mode: Convection mode is used for the microwaves which can also do the baking. They enable you to cook food in the same way as in a traditional oven. Moreover, they are cheaper to run than a traditional oven. So, it can cut down your bills.
You can also look for removable racks and sensors which prevent over-cooking of the food.
Child Lock Option: Microwave has a child safety program installed in it to prevent a child or anyone unfamiliar of it from accidentally operating it.
You can set any passcode and it can be operated only when the passcode is entered. This feature prevents accidental burning of your child or family members. Now that you are familiar with all the features, factors you need to consider while looking for a microwave, its advantages, disadvantages and Precautions; Let's move onto our top picks for you! Agree or Not, We all are so tired of always seeing the standard black/chrome/stainless ovens! So, we have decided to feature all the best RED microwaves. It can add life and colour to your kitchen. Something to pop out in your plain, simple kitchen; This can be the best way to decorate your kitchen without renovating or painting. Thus, your purpose is served without spending a lot of money.
6 Top Picks
Farberware Classic FMO11AHTBKN Microwave Oven
Description: The Farberware Classic Microwave delivers power, style and convenience with a contemporary metallic red design to compliment your kitchen. Farberware Classic offers an easy to operate digital interface. The LCD display provides a clock and kitchen timer. Add 30-Seconds control, as well as six pre-programmed cooking functions. Multi-stage cooking means that you can set the power level to adjust during the cooking cycle for perfect results without interruption. With a generous 1.1 cubic foot cooking capacity, 1000 watts of power and a rotating turntable, the Farberware Classic is the perfect multi-tasker for your kitchen.
Type: Countertop Capacity: 1.1 Cubic foot Dimensions: 16.54 x 20.2 x 12.03 inches. Weight: 35.6 Pounds Power: 1000 W, 10 different power adjustable levels. Special Features:
Memory Function: It stores and recalls your preferred cooking settings.
Express cooking: You can cook your meals and heat your leftovers with just the touch of a button.
Safety lock feature: You can easily prohibit unsupervised use of your microwave to prevent any kind of mishaps.
One touch cooking programs: there are 6 preset cooking programs including popcorn, potato, beverage, frozen vegetables, pizza, dinner plate.
Defrost: Time and weight based different controls.
What we like:
Memory Function
Multi stage and express cooking.
What we don't like:
Loudest microwave as reported by some of the users.
Durability is also an issue. With this price one year of manufacturer warranty is not sufficient.
Galanz GLCMKA07RDR-07 Microwave
Description: Galanz 0.7 Cu Ft Countertop Microwave makes cooking and reheating meals or beverages simple, quick, and convenient. The fun Retro design brings a look and feel of the fabulous old days, adding style but still function in your modern kitchen. It is a fun and stylish addition to any kitchen, rec room, home office or dorm room.
Type: Countertop Capacity: 0.7 Cubic foot Dimensions: 17.81 × 13.75 × 10.31 inches. Weight: 23.1 lbs Power: 700 W, 6 different power adjustable levels. Special Features:
Suitable for small spaces.
Defrost, Auto -Menus for Pizza, beverage, Popcorn, Reheat, Potato and Dinner Table.
Lighting pull handle.
A 360° rotating glass turntable provides even heating.
Interior light for checking the status without having to open the doors.
Child safety.
What we like:
Cute, Retro Look.
Price worthy
Little or no noise at all.
What we don't like:
Little capacity. Big no for large families.
Some users have reported it turns on by itself sometimes.
Nostalgia RMO4RR Retro Large Microwave Oven
Description: Compact in Size but Big on Features. This perfectly describes this microwave. With twelve different pre programmed cooking settings, LED lighted control panel, delay start, it is a perfect choice for your kitchen. The retro inspired design makes it an eye catching unit for any countertop.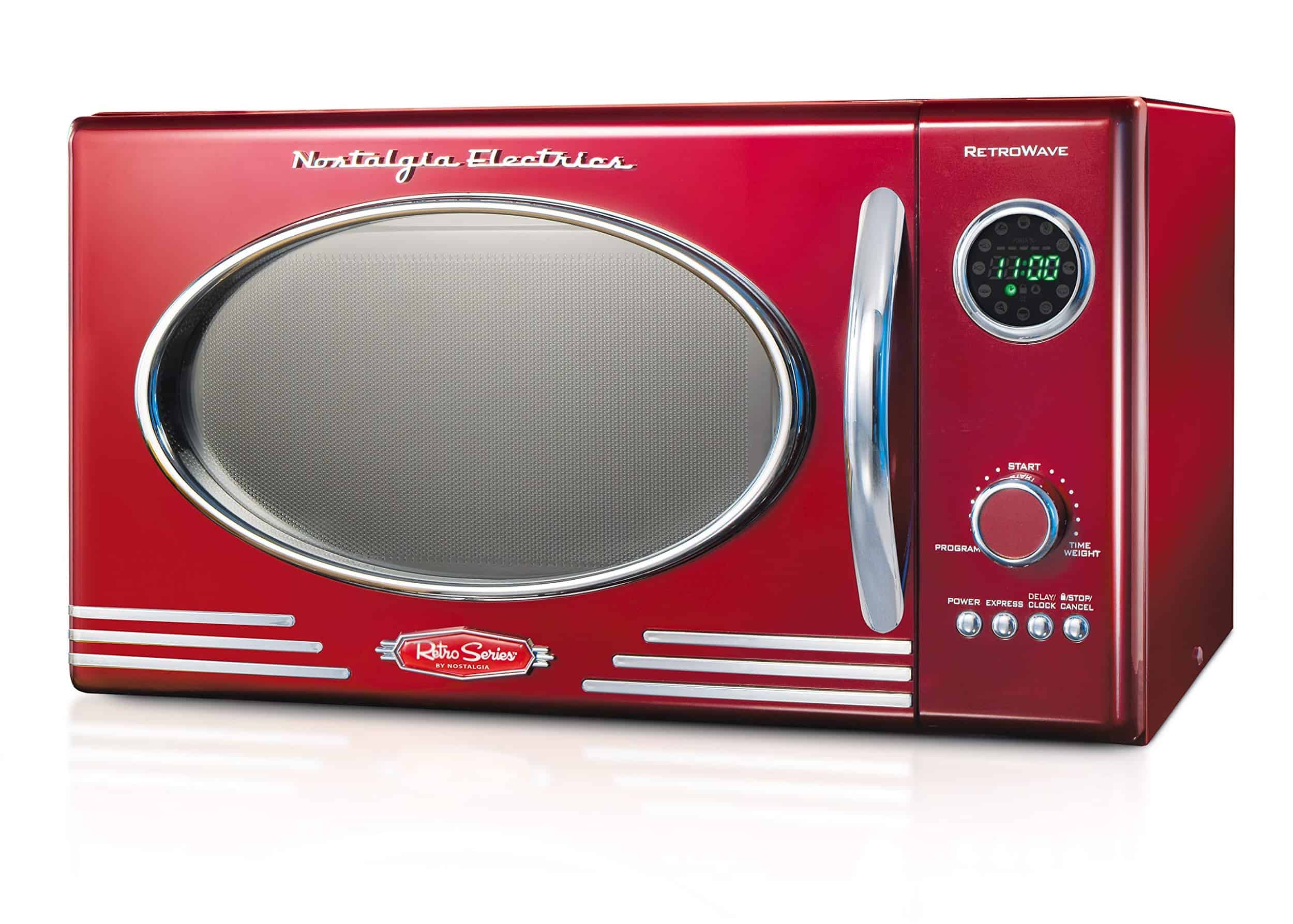 Type: Countertop Capacity: 0.9 Cubic foot Dimensions: 19 ×15 ×11 inches Weight: 34 pounds Power: 800 W, 5 adjustable power levels Special Features:
Simple Turn-and-Push Program Dial: Use the program dial to set the cooking time, food weight or choose a program setting.
Options for express cooking, adjusting the power level (100% to 20%), delaying the start, setting the clock, as well as stop/cancel functions.
Child safety lockout mode.
12 preset cooking modes for beverages, popcorn, frozen items, vegetables, potatoes, rice, bread, pizza, dinner plates, fish, chicken and beef.
What we like:
Variety of options to cook.
Saves space.
What we don't like:
Not a good choice for large families.
Noisy.
Little costly as per the size.
COMFEE Retro Countertop Microwave Oven
Description: COMFEE' is a trusted brand in small kitchen appliances. This retro style microwave oven with rounded buttons and body, curved handle and vibrant colors matches perfectly with any kind of kitchen—either vintage or modern. It features 9 auto menus, easy defrosting function, microwave cooking with 10 power levels and an express cooking button. The compact size is ideal for apartment kitchens, vacation homes, offices and dorms.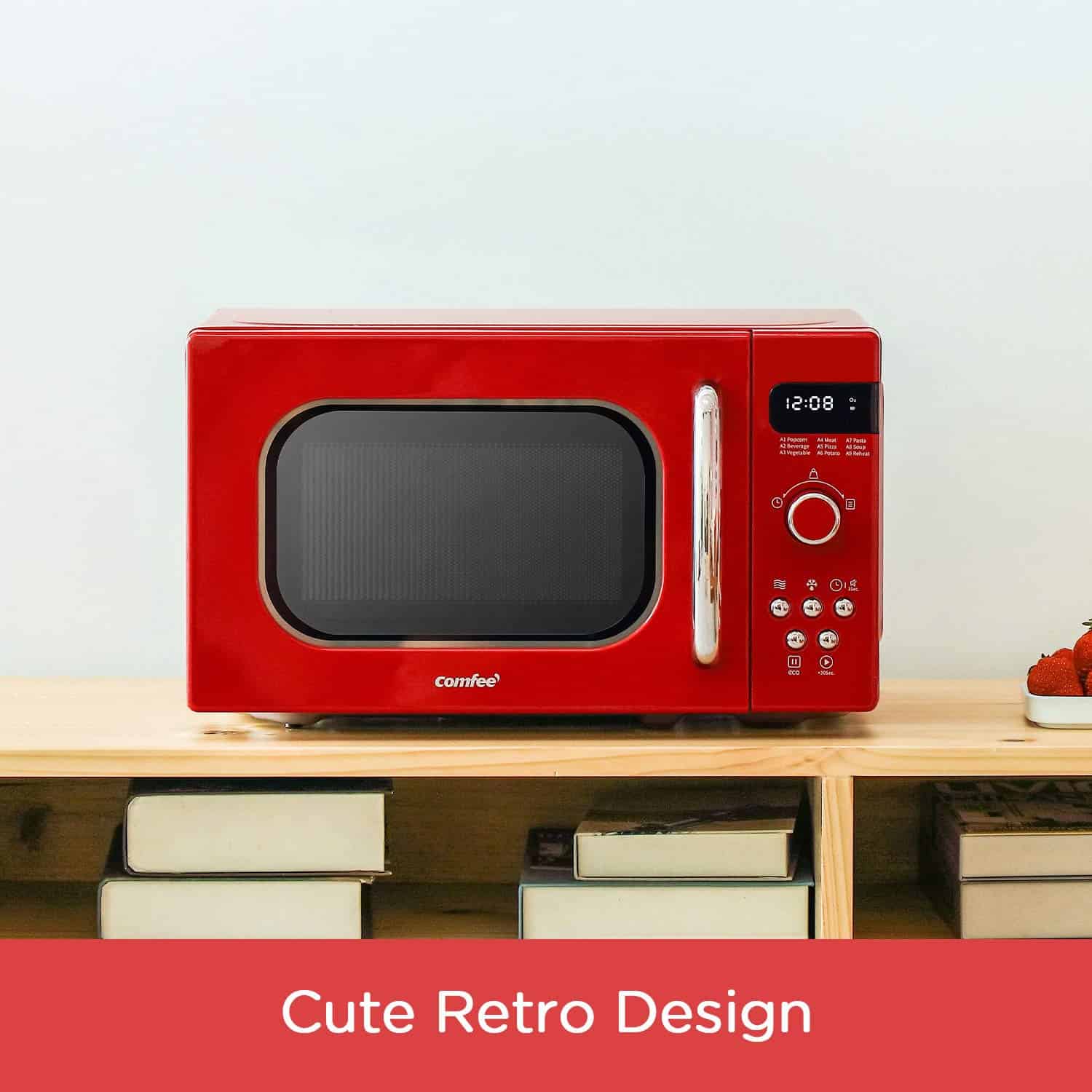 Type: Countertop Capacity: 0.7 Cubic foot Dimensions: 17.3 ×14.1 ×10.2 inches Weight: 24 Pounds Power: 700 W, 10 adjustable Power levels. Special Features:
Position memory: This is the feature, I like the most about it. We all have suffered with the problem of burning our hands due to the changed position of the turntable and our dish on it. But with this innovative position-memory function, after the cooking is finished, the lamp, turntable keep working till the turntable is reset to its initial position. This allows us to conveniently take out our dish.
Energy Saving ECO Mode: By turning on Eco mode you can reduce the standby power to 50%.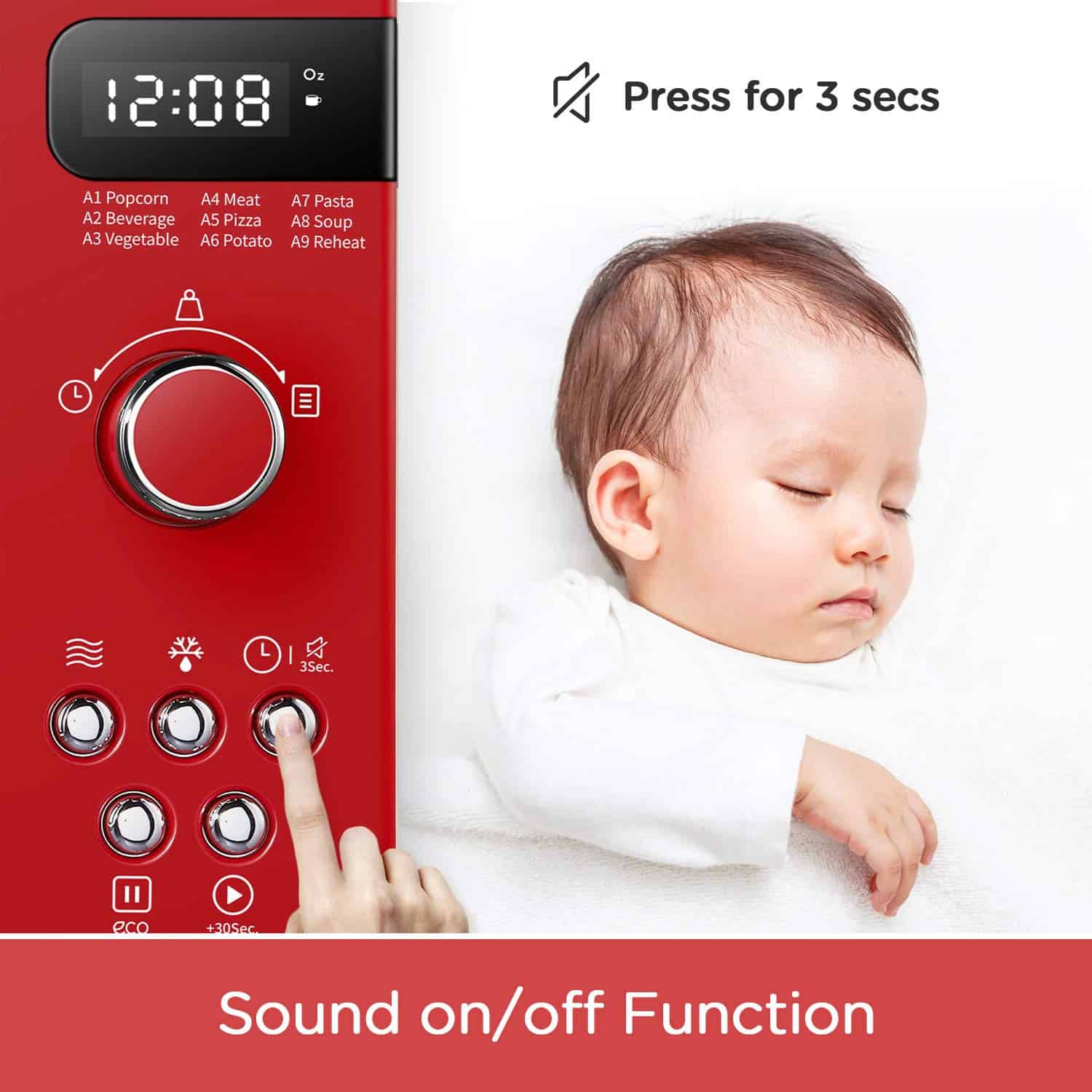 Mute option: You can easily turn off the end alert and beep sound, if you don't need to be reminded. If you want it, you can manually reset it.
What we like:
Energy saving mode.
Mute option.
Retro looks are a big YES!
What we don't like:
Other than the compact size there is nothing else to dislike about this microwave.
Magic Chef MCD993R 0.9 Cu. Ft. Microwave
Description: This compact microwave offers 900 watts of power and 10 power levels along with Auto Cook menus to help you quickly and easily prepare a wide variety of foods.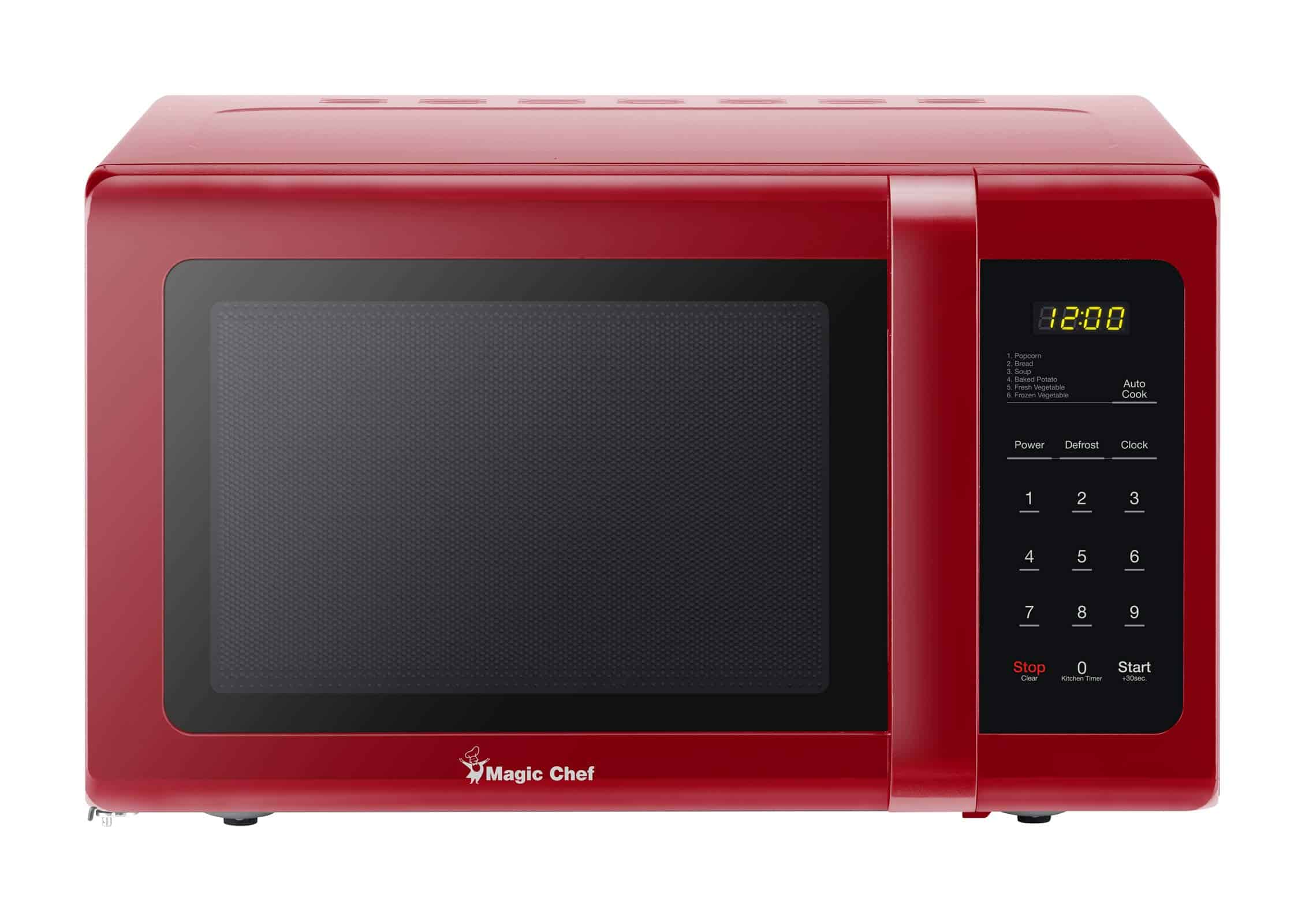 Type: Countertop Capacity: 0.9 Cubic foot Dimensions: 14.8 x 18.3 x 11 inches Weight: 24 Pounds Power: 1000 W Special Features:
8 preset menu buttons.
Electronic controls with LED display.
Push-button door for easy microwave operation.
What we like:
What we don't like:
No interior lighting.
At this price we certainly expect more.
WOR07R3ZER Retro Countertop Microwave Oven
Description: This microwave lets you have a vintage aesthetic while keeping modern conveniences. With 5 power levels and 5 auto-cook options to reheat and cook, this mini microwave packs a mighty punch.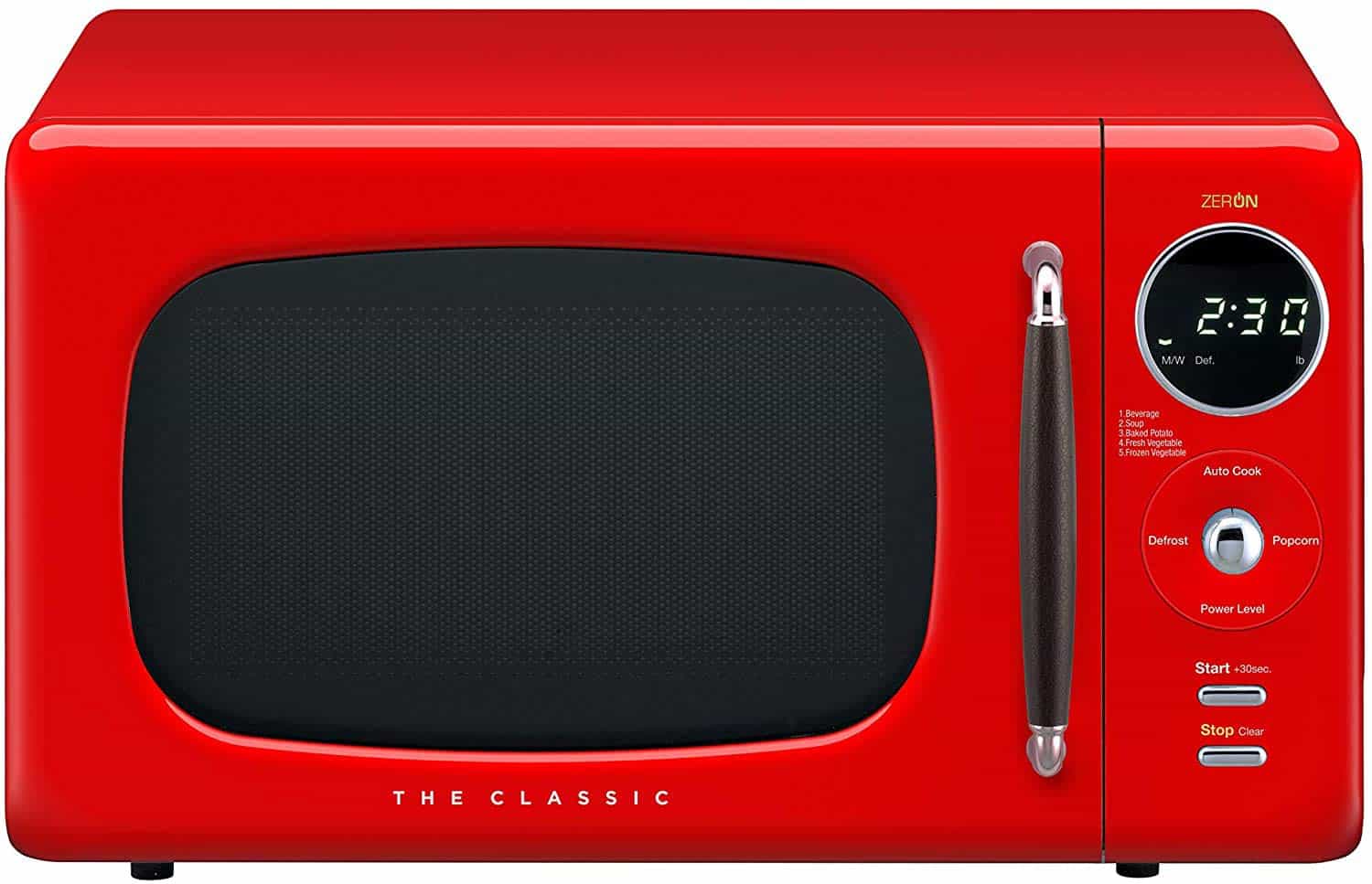 Type: Countertop Capacity: 0.7 Cubic foot Dimensions: 17.6 x 12.7 x 10.6 inches Weight: 20.1 Pounds Power: 700 W, 5 adjustable Power levels. Special Features:
Concave Reflex System: with the use of dual wave technology it combines concave reflectors, which concentrates the waves equally on all areas of the food item to enhance heating and cooking.
Zero Standby: Zero On saves energy by only consuming electricity only when you use the microwave function automatically cuts off power supply after 10 minutes without any usage.
Standby power supply accounts for 10% of the total electricity consumption of the average household.
Recessed Turntable: Fixed tray, located lower with sufficient space in the cooking chamber, along with one-piece coupler makes you use it much easier.
What we like:
Incorporation of modern technology for energy saving.
Even quick cooking.
What we don't like:
Can be little too small for big families.
Can take you a little time to adjust to its working.