Last Updated on July 19, 2021
Wonders of Washing Machines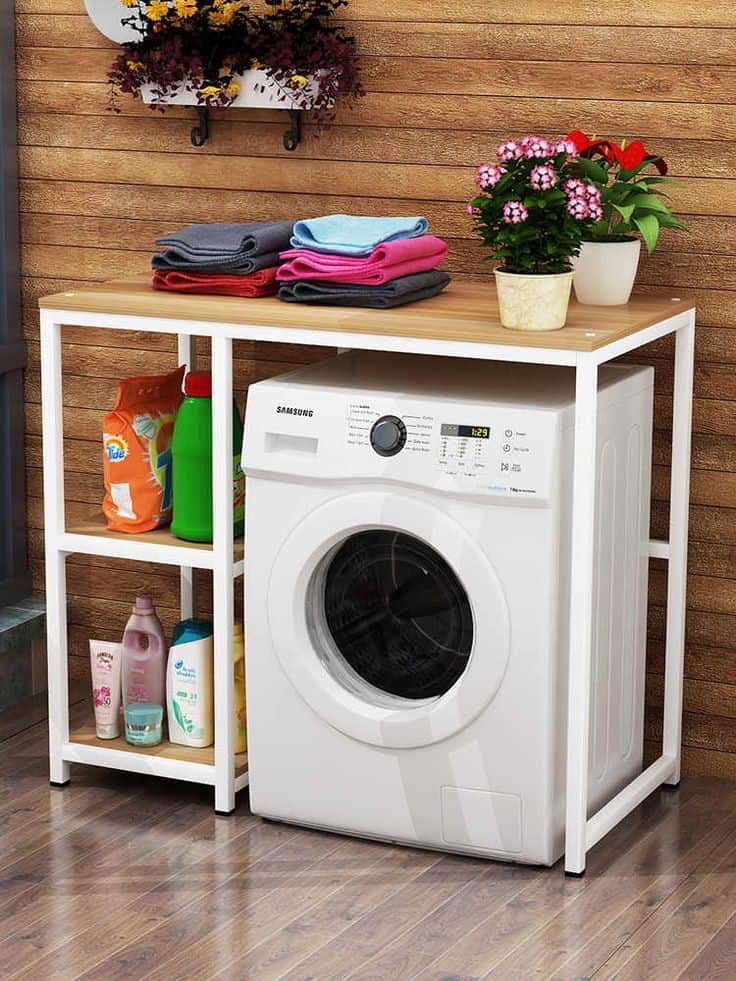 When we think about life-changing miracles in modern technologies, we usually think about advancements in the field of Medical Science, War weapons, Computers, Mobiles etc; But, have you given any thought to washing machines? If not, then let me remind you of the last time when you washed all your clothes using your hands. If you don't remember when it was, which is a probable answer; Don't ever take a washing machine for granted! This technological wonder changed the lives of women all around the world. It gave them an unprecedented amount of freedom. Women who spent hours sitting and removing stains from their children's or husband's socks, suffering from back pain, distorted nails and hands, were liberated from their "in charge of laundry" designation. It doubled their number in the workforce. Agreed they were still in charge of laundry; but being a multi – tasker, with the help of the wonders of the washing machine, they were now able to juggle home and work efficiently. Not only women, but as a whole it has made the lives of people hassle – free. It not only saves our time, also minimizes the physical labour of hand washing the clothes. We would definitely recommend you to buy one. And, if you are not so sure, No worries! We are here to solve your problem. After spending hours in extensive research, we have penned down this detailed article. Do give it your time.
Various Types
There are various types of washing machines available in the market like top – load agitator washing machine front – load and top – load impeller or high efficiency washing machine.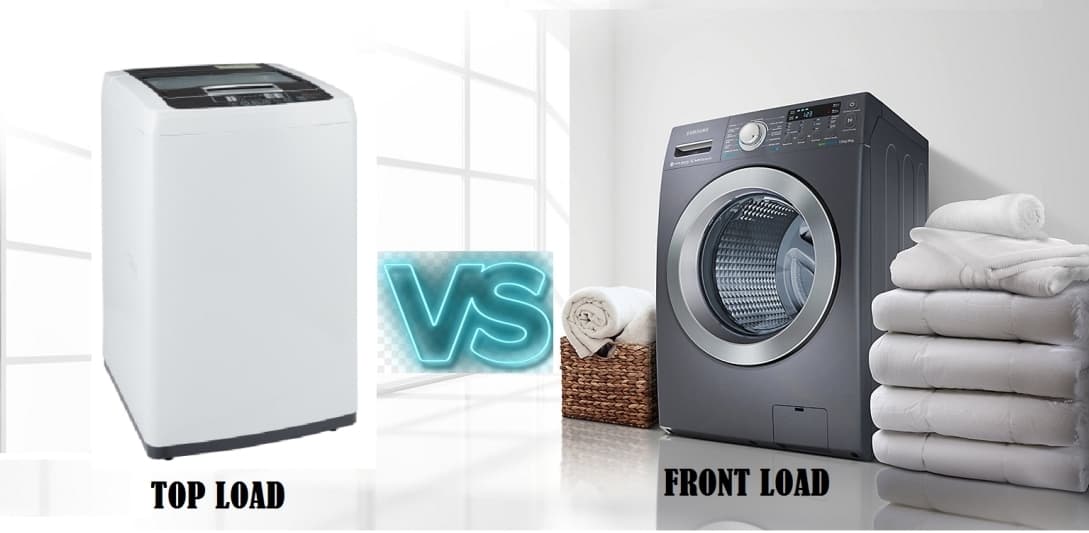 As the names sound, Top- load and Front- load differ in the opening position of the door. Top- load models come with or without an agitator. Further, these machines come in manual, semi – automatic, and automatic mode of functioning.
Front Load-Washing Machines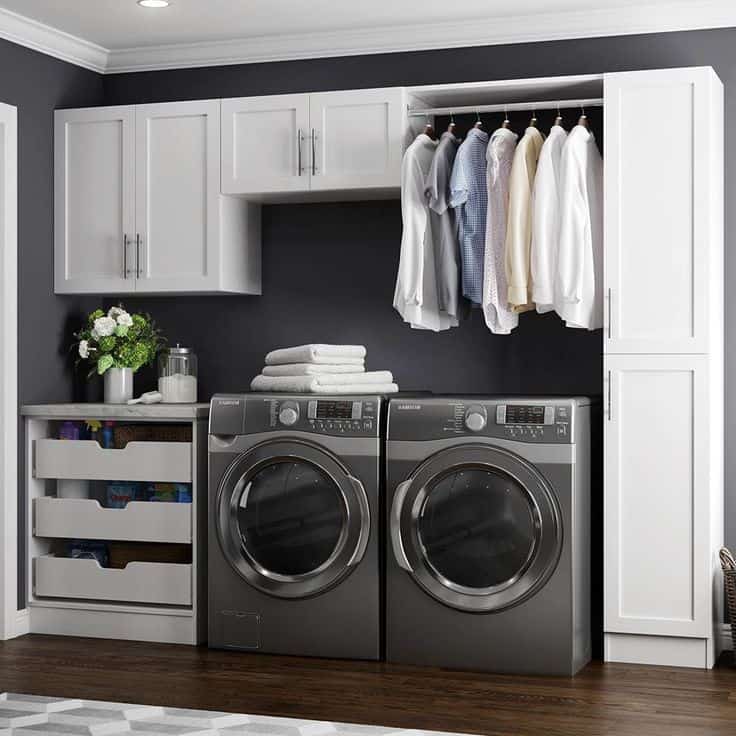 Let's talk about front – load washing machines. They are considered as the best option in several households. The reasons are:
Efficient cleaning: Front-load washing machines tend to be better at stain removal and water removal than their top-load counterparts.
They have an effective tumbling wash motion. They knock clothes against each other, scrub them against the detergent, all with more energy than the twisting motion of a top loader can ever muster.
Save Water: Top-loaders need to use more water to ensure that clothes get wet during the cycle. Whereas, Front-loaders use less water as the rotation of the drum drags the clothes through the shallow or less amount of water.
Save Energy: Because of their faster Wash and spin cycles, They force more water out of the clothes and hence facilitate faster drying.
"Most of you might not be knowing the fact that drying is one of the most energy – intensive applications in appliances."
Gentle on clothes: Since the front loader doesn't have an agitator they are gentler on clothes.
Top Load-Washing Machines
You would be surprised to know that despite all these advantages, the majority of british households still have top loader washing machines (with or without an agitator). Why? Because they are conventional! They are tried and tested. While we all love conventions (or Not!), This is not the only reason.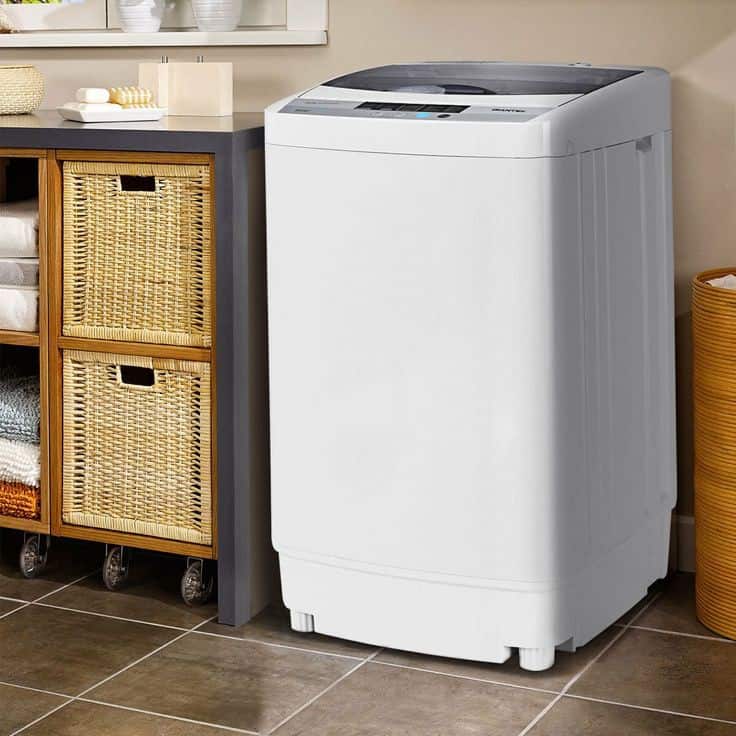 The reasons why more people still prefer top loaders over front loaders are:
More reliable: Since it's out there for so long, it is tried and tested. There are less chances of user errors or mishandlings. It requires lesser maintenance as compared to front-loaders.
Lower price: Top- load washing machines are cheaper as compared to their front-load counterparts
Easy to load and unload: In Front-load washing machines you have to bend over to load and unload which can be a problem for people with back issues and old age ones. This is probably the most important reason why people prefer top-load washing machines.
Can add clothes mid-cycle: Front load washing machines have door locks to prevent leakage. Some of them have a pause button. You can pause the washing cycle and add clothes but if it doesn't, forget about adding some cloth you missed out, by mistake
No leakage: If the door doesn't lock properly, water leakage can take place. This is a common problem in front- door washing machines. However, This doesn't happen in top load washing machines.
No moulds or odour problems: Front load machines are more prone to mould and mildew near the door, since water keeps swishing around the door continuously
Save space: If your laundry closet has less space, a front door washing machine can be a bad idea because their door requires additional space. Top load washing machine can fit in anywhere.
While many people still consider front loading washing machines, going for top loaders is not a bad choice at all! Infact top loaders can be more suitable for your needs. Top-load Agitators vs Impellers Both agitator and impeller models are found in top load washing machines. The basic difference lies in the cleaning mechanism of both the washing machines. Top load agitator models are the oldest ones and probably the ones you are most familiar with. They have agitators- central post or tall vertical spindles, in the centre of the washer.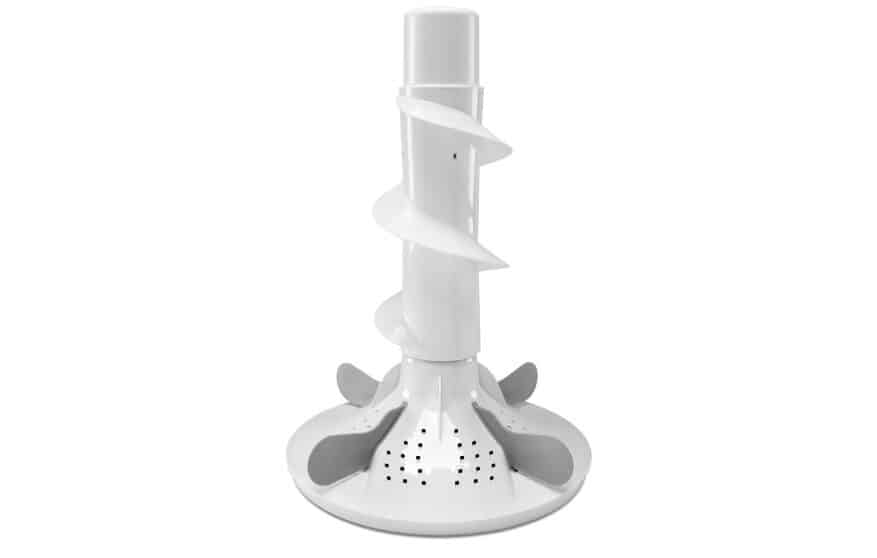 Agitator- Image Source: Whirlpool.com Agitators twist back and forth and rub themselves against the clothes. This is the cleaning mechanism in agitator model washing machines. Impeller Models are the newest models available.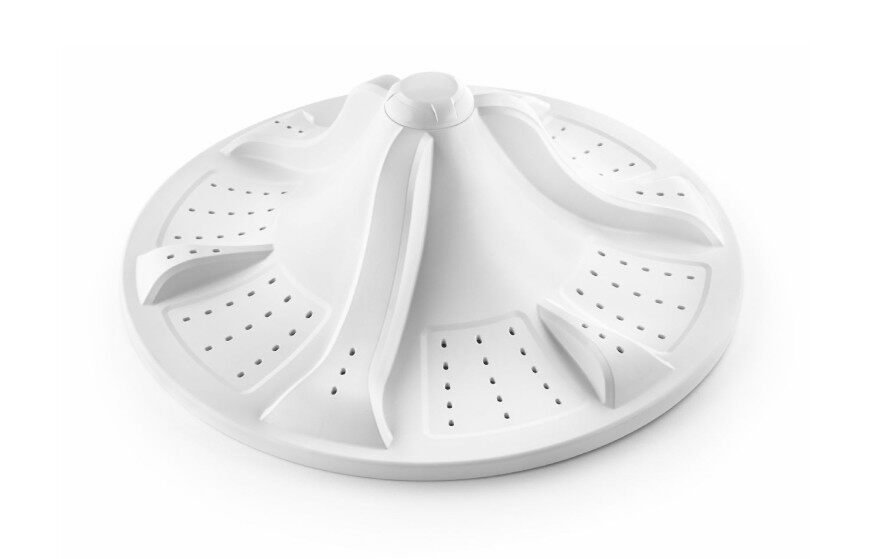 In impeller models there is a low profile cone or disc-shaped impeller present with usually 3 -5 baffles. These baffles force the clothes to rub against each other. Let's have a look at the pros and cons of both agitator and impeller models in a tabular form.
| | | |
| --- | --- | --- |
| | Agitator | Impeller |
| 1. | Quick and aggressive cleaning | Gentle cleaning |
| 2. | Good for tough dirt and stains | Less effective in removing tough stains |
| 3. | Less expensive | More expensive |
| 4. | Uses more water | Uses less water, saves energy |
| 5. | Less washing space | More room for clothes |
| 6. | Hard on clothes, may result in wear and tear | Gentler on clothes |
| 7. | Longer dry time | Shorter dry time |
So, if you get mild to moderate stains on your clothes and don't mind spending more, you can definitely go for impeller models. But if you are short on money and tend to get tough stains on your clothes agitator model would be a good choice, don't let studies distract you. Nowadays all the washing machines are higher efficiency models, unlike the studies which state impeller ones as higher efficiency models. Technologies have also enabled agitator models to get gentle on the clothes.
Features to look for in a Top-Load Washing Machine
Semi- automatic or Fully automatic?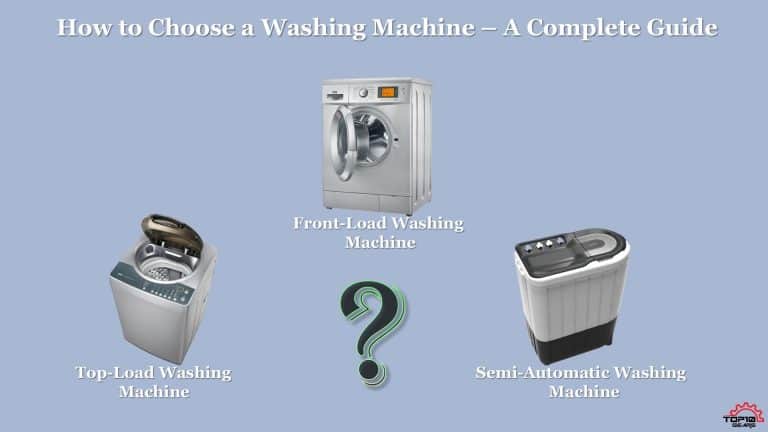 Both have the similar function of washing clothes however they differ in the amount of human intervention required. In semi- automatic machines there are two tubs- one for washing and one for drying. You have to put clothes in the washing tub and after washing, rinse the clothes and then shift them into the drying tub, manually. This requires human effort, these machines are easy to use and less expensive. These are a better option for those who can't handle complex programming functions of fully automatic machines. While in fully automatic machines only one tub is present for both washing and drying. You don't need to manually pour water for wash and rinse and then remove clothes from washing to drying tub. They come at a higher price but have additional advanced settings like temperature control, half load, quick wash etc.
The last thing you want is that your washing machine doesn't fit. Most washing machines come 59 cm wide and 85 cm tall in length. You need to keep 1-2 cm for extra margin.
The load capacity is also measured in drum size. Larger the drum size more will be the washing per cycle. Drum size ranges from 5 kg to 12 kg. Majority of them have 7 kg of drum size which is suitable for an average household.
Measured in rpm, more number of spin cycles account for faster speed. They remove more water from clothes and thus require less time for drying clothes. But it makes the machine noisier and produces wrinkles in clothes. Most of them have spin cycles of 800- 1200 rpm. Once above 1200 rpm, the prices increase dramatically. 1400 rpm is getting common, these days.
Many machines have additional advanced programs like Temperature control, Delicate settings, Quickwash, Mixed fabric, Half load These settings add to our convenience and safety of clothes.
A Washing machine with an inbuilt dryer saves space. You don't need a separate dryer to wash your clothes.
Energy Efficiency is measured in rating of A to A + + +. The most efficient machine uses less amount of water, detergent and electricity, Thus, is cheaper to use in the long run. 4 Best Picks
KUPPET Full-Automatic 10lbs Portable Washing Machine, Compact 2 in 1 Laundry Washer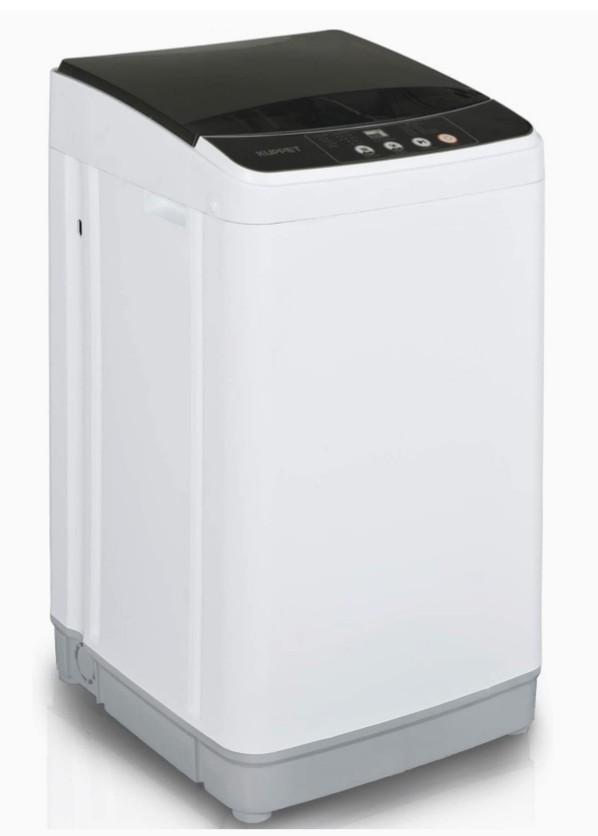 Description: With KUPPET fully automatic washing machine, you only need to set the washing/spinning program, and then it can work alone. This Compact and lightweight washing machine has a drain pipe, allowing you to easily discharge dirty water. It has a Multi-Function Control Panel with clearly listed functions. Dimensions: L x W x H : 41.5 x 43.3 x 73.6 centimetres Capacity: 4.5 kg Spin cycle speed: 1350 rpm Tub: Stainless Steel Tub Features:
Multi-Function Control Panel.
Ten programs on the control panel.
Eight water level selections
LED display
Clearly listed programs water level/rotation, program/delay, time setting
Automatic Imbalance Adjustment and Adjustable Foot: While spinning, sometimes violent vibrations are caused. This Washing machine has an imbalance adjustment function which starts automatically to adjust the imbalance situation if vibration is beyond a certain level. Bottom feet can be adjusted to meet your needs.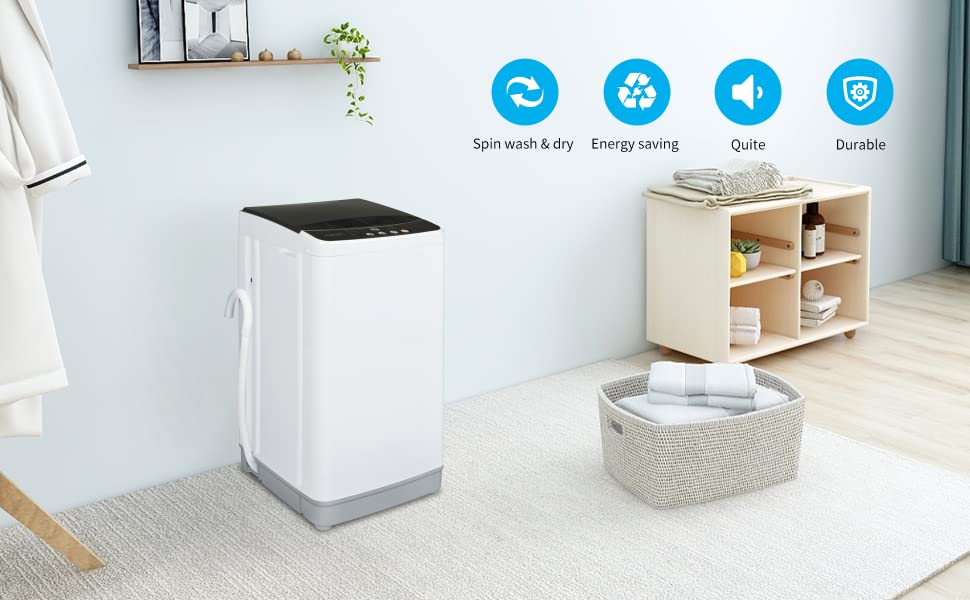 Child lock
It also includes detergent and program options to meet your various needs.
CASART Full-Automatic Washing Machine with 6 Washing Modes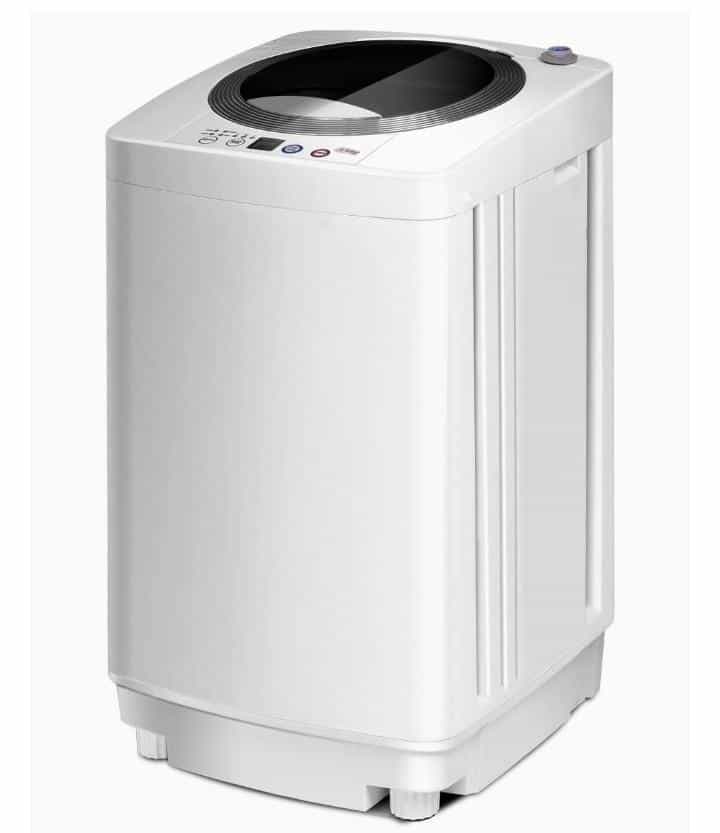 Description: This portable fully automatic washing machine only needs a small space for compact living. It enables you to choose a suitable wash mode and water level according to yourself, which saves water and electricity. Dimensions: 43 x 43 x 75 cm Weight: 18kg Capacity: 3.5 kg Inner tub: Stainless Steel Features:
6 programs for choosing: wash-rinse-spin, soak-wash-rinse -spin, wash, wash-rinse, rinse-spin, spin.
3 water level selections.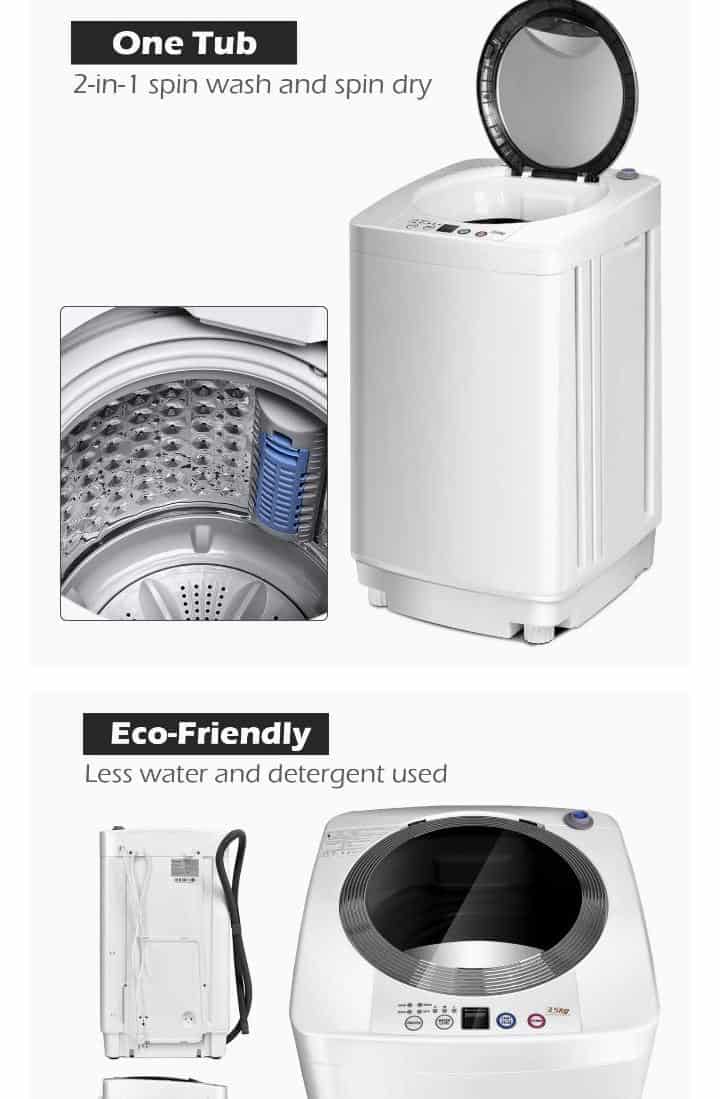 2-in-1 function which can be used as a washing machine and dryer.
A built-in drain aluminum pump, an intake hose and a drainage tube, which allows this washing machine to easily add water or drain out dirty water.
Think Gizmos Portable Washing Machine TG23 – Twin Tub Washer Machine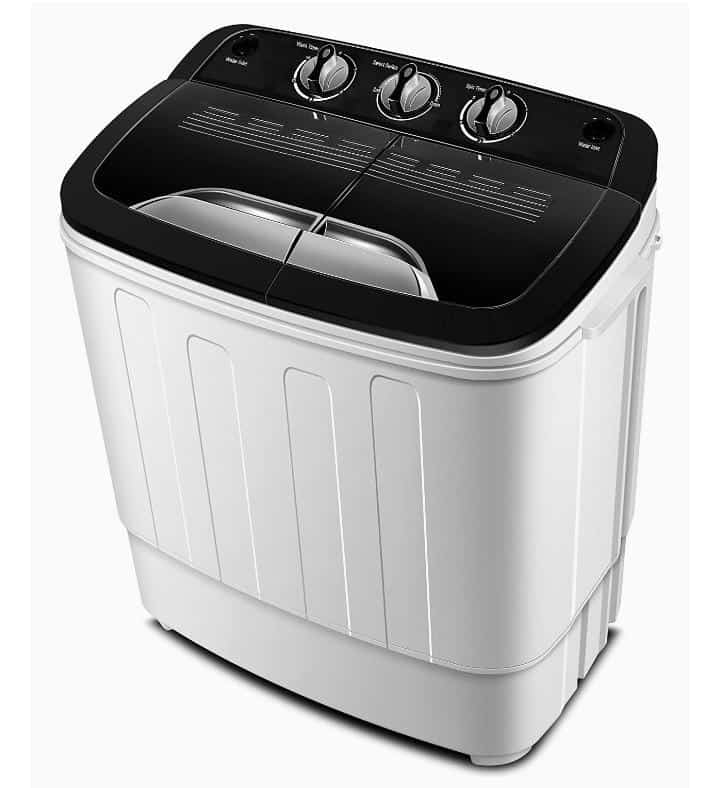 Description: This portable washing machine with spin dryer TG23 from ThinkGizmos is perfect for anyone who needs a Washing Machine but may not have the space for a full-sized machine. Simple to use simply add clothes, water and detergent and set the machine to wash. Everything needed for the machine to work is included in the box like Washing Machine, Water Fill Hose, Lint Filter. Dimensions: 38.5 x 60 x 69 cm Weight: 11 kg Capacity: Wash capacity of 3.6kg and a spin capacity of 2kg. Energy Efficiency: A+++ Features:
Lint Filter: It can be placed in the wash section and will float on the water collecting any debris.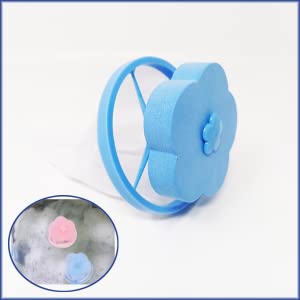 Twin Tub: Both washing tub and a spin tub. Each tub has its own separate timers and the wash tub has different wash modes.
Easy to use dials on the top of the machine.
Makes less sound.
Cater-Wash Top Loading Washing Machine 7.5kg Slim CK8575
Description: Cater-Wash slim freestanding top loading washing machine with a 7.5kg capacity and 400mm wide footprint makes this machine the perfect solution for small spaces.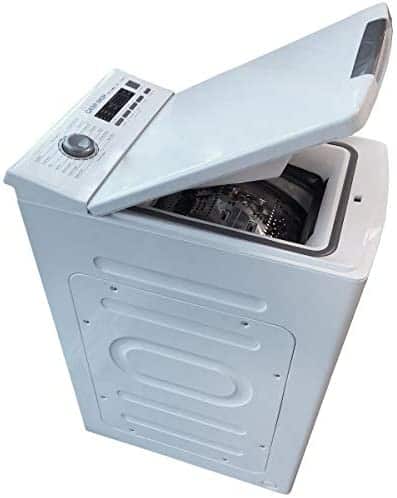 Capacity: 7.5 kg Spin cycles: 1200 rpm Energy rating: A+++ Features:
Child lock
Pre-Wash
Wash Cycles: Cotton Wash, ECO mode, Wool, Delicate, Colour Care, Rinse and Spin, Spin Only, Drum Clean, Daily Wash, Quick Wash of 15 minutes, Synthetics, Mixed fabrics, Baby Care.